25 per cent of cycles under Pune bicycle sharing plan vandalised
Hindustan Times, Pune |
Prachi Bari
Sep 19, 2018 02:44 PM IST
PMC appeals to residents for deligent usage of public utility
The Pune municipal corporation is hopeful of reaching its target of 8,000 bicycles under the public bicycle sharing plan despite vandalism posing a threat to the ambitious plan.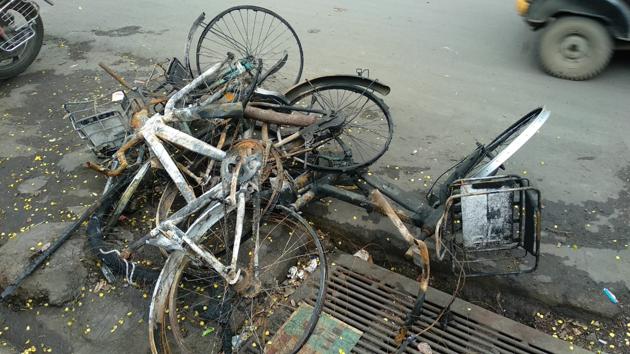 Ever since the launch of the public bicycle sharing plan in the city in December 2017 at Savitribai Phule Pune University (SPPU) and Aundh, 25 per cent of the bicycles have been vandalised, say authorities.
"We have lodged a complaint with the police, seeking protection for the bicycles at various areas in the city," said Narendra Salunkhe, superintendent engineer (projects) and in-charge of Pune's bicycle plan. "We have provided the photographs of bicycles in bad conditions to the police. There are instances where people have hung the bicycle on the tree or have thrown it into the river. We want to create awareness about the public utility and appeal to the people to make use of it diligently," he said.
The very first reports of vandalism were reported at College of Agriculture following which many other such episodes were reported. There were also reports of bicycles being stolen or finding its way to personal garages.
"The bicycle companies approached us with complaints against bicycles being stolen and vandalised. This has brought down the number of bicycles running on the 94-kilometre cycle track in the city," said Salunkhe. Romil Kaul, vice president, Zoomcar PEDL, said, "Although we are aware of the vandalism of the bicycles, it has not deterred us from doubling the bicycles in the past one month. We are close to touching 5,000 bicycles on the road. Vandalism is sporadic. It is present in certain areas. We are pushing PMC to help us file police complaints and align meetings with local police in this regard. Zoomcar PEDL recently launched in Kharadi after Viman nagar and Koregaon Park. Kaul added that they have a firm system in place with GPS and alerts which let us recover the cycles from any point in the city.
"Most of miscreants are kids from slum areas. Educating the people about protecting public property is important," he added.
The bicycle-sharing scheme, was launched as part of the Pune Smart City Development Corporation Limited (PSCDCL) initiative.
Vibhor Jain, CEO, Mobike said, "We need stricter measures and we expect proactive action from the police for vandalising the bicycles. We have filed several police complaints, but how do you keep accountability of where and who has vandalised the bicycles? We have an ongoing plan to add more bicycles, but still need assurance from PMC and police about protecting these public properties."