A fort named the 'eagle's nest'
Shivaji chose the fort to start his campaign for Swarajya. After seizing the fort, he ordered the damaged buildings to be refurbished.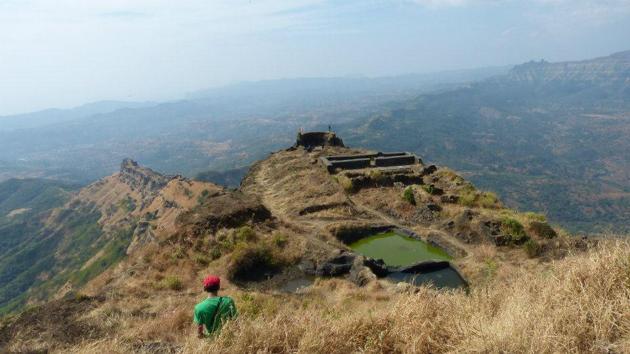 Updated on Sep 07, 2017 01:23 PM IST
Hindustan Times, Pune |
Ashish Phadnis
PUNE Torna fort aka Prachandgad is a unique place in many aspects. It was the first fort captured by Chhatrapati Shivaji in 1643, when he was just 16. This first battle shows his valour and instinct to form an empire. The fort is highest (4,609 ft) in Pune district and hence is called as the Eagle's Nest. The fort is situated in Velha taluka, 60 km from Pune and is a favourite trekking destination.
The name
A lot of theories are spread regarding the name of the fort. Some claim it being the first fort to be included in Swarajya (self-rule) as it opened the doors for new empire. The fort also has a 'toran' (decorative door hanging), hence it gets the name Torna. Others say that a large number of Toran bushes are found on the fort. There is also a small temple of Toranjai goddess on the fort. The fort is a massive structure and hence got the name 'Prachandgad'. Prachand means huge in Marathi.
The fort
The construction on the fort dates back to 13th century. Being located on a strategic position, the fort must have played a key role for earlier kingdoms. Keeping that in mind, Shivaji chose the fort to start his campaign for Swarajya. After seizing the fort, he ordered to repair the damaged buildings. While doing so, they found hidden treasure and it was used to construct another fort – Rajgad, which eventually became the first capital of Swarajya.
The fort has two major wings (Machi) namely Zunjar machi and Budhla machi. While Zunjar machi can be described as the best defensive construction, Budhla is nothing but a huge vertical rock looking like a can put upside down. The ancient doors like Bini Gate and Konkan Gate are still in good condition.
The haunted place
Torna fort is also famous for the stories regarding paranormal activities witnessed by trekkers. Many still believe that the ghost of one priest named Divakar roams near Menghai temple at night.
Torna Fort, Velha
What – Highest fort in Pune district
Where – Near Velha village, 47 km from Pune
Close Story