Alumni Connect: Magician who made music from wind
Hindustan Times, Pune |
HT Correspondent
May 25, 2018 03:10 PM IST
Milind Date studied under Ajit Soman and Pandit Hariprasad Chaurasia and is known for his exquisite blowing technique and musical styles.
Milind Date is a flutist and music composer who plays the bansuri. He studied under Ajit Soman and Pandit Hariprasad Chaurasia and is known for his exquisite blowing technique and musical styles. He has been nominated for an Emmy for the background score of the film Among The Believers. Excerpts from his interview with Prachi Bari.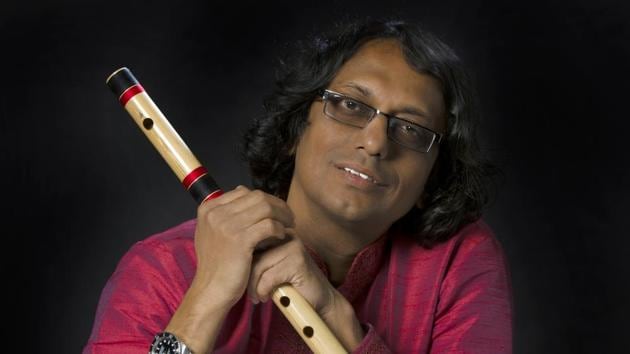 Tell us about college life and the most riveting experiences?
I studied zoology in Fergusson college. It was a deliberate choice as I was not interested in chemistry or geology, which were my other options. My mother wanted me to become a doctor, but I am glad I did not become one. My heart was always fixated on music. This reflected in everything I did. From the very beginning of my college life, I realised that there was very little connection between the degree and jobs on offer. I simply studied to finish my education.
Then what drove you to choose this career path?
I started learning to play a flute when I was in college. The first man I went to learn claimed to be a student of Pandit Hariprasad Chaurasia. He had said that I wasn't fit to play the flute and that I was wasting his time. This did not deject me and I searched for another teacher and later, met Pandit Ajit Soman. He taught me the basics of flute and music and after about one year and a half, I started studying under Pandit Hariprasad Chaurasia. I always used to carry around my flute when I was in college. I would sit in the amphitheatre, on trees, on the ground and at the canteen and play the flute. Before I realised, I was playing professionally and I didn't have to think about any other career as I became a known personality by the time I completed my first year of college.
What happened after graduation?
I kept learning, practicing and performing with some of the best artistes in the country. I have played with Pandit Hridaynaath Mangeshkar, Asha Bhosale, Yashwant Deo, Ram Kadam, Jagjit Singh, Ghulam Ali and Suresh Wadkar. After college, I also joined an incredible musical theatre group – Ashok Hande's Mangal Gani – Dangal Gani. I toured with them for two years and I learned a lot of things from Ashok, which still come in handy in my life. But I grew tired of playing the same songs in front of the same audience on the same stage in different cities. Basically, I wanted to create my own music. So I stopped accompanying the group and started my own fusion music group. I love performing in India and abroad. In 2002, I started going to Korea for performances. I would go twice or thrice a year and would perform 18 to 20 concerts in 15 days. I have my fan clubs there, which keep discussing my music, and I must have performed over 600 concerts in Korea. I performed with some of the greatest musicians in Korea and travelled across the country multiple times. Later, in India, I composed lots of music tracks and recorded for films and documentaries. I have performed over 3,000 concerts till date. Few years ago, I also produced an album of a New York-based American singer Angeli. Two songs from that albums were later taken up by two different Hollywood films. A couple of years ago, I composed music for a documentary film Among The Believers. The film was nominated for the prestigious Emmy awards.
What were the highs and lows of your career?
I never had a low in my career neither did I have to struggle. Thanks to my Guruji I was already performing professionally while in college. Currently, I am working on a Marathi movie. I am composing six songs and the entire background music for the movie. I am planning to produce three albums, which I hope to release this year. One is a fusion music album while the others are Indian classical music albums. I am also planning a world tour next year.
A weekly column that connects with Pune's alumni to see how their careers are faring.