Golf Championship 2018: Pune's Damale makes cut; Honey Baisoya fires a 64 to storm ahead by three
The only Pune player who made the cut at the Pune Golf Championship 2018 was Akshay Damale (71-70), who was tied at 30th at one-under-141 on Wednesday. The cut was declared at one-over-143.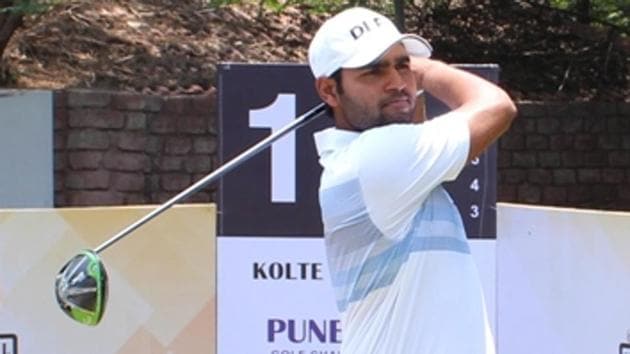 Updated on Apr 11, 2018 10:10 PM IST
The only Pune player who made the cut at the Pune Golf Championship 2018 was Akshay Damale (71-70), who was tied at 30th at one-under-141 on Wednesday. The cut was declared at one-over-143.
While fifty-nine professionals made the cut, city players Sagar Raghuvanshi (74-71), Gurki Shergill (75-79), Sameer Shaikh (76-70) and Pravin Pathare (76-73) failed to make it to the top.
Delhi's Honey Baisoya dominated round two as he fired a sensational seven-under-64. The 21-year-old Baisoya, a four-time winner on the PGTI, moved to a three-shot lead at 12-under-130 at the Poona Club Golf Course. Allahabad's Samarth Dwivedi (65) and Ahmedabad's Udayan Mane (67) shared second place at nine-under-133.
Baisoya said, "The conditions were tougher on day 2 as the wind was up. I did well to shoot a seven-under despite a slow start. My putter was on fire today. I made a career-best 24 putts which included 12 to 13 single putts. However, on the other hand, I haven't been in good driving form. I gave myself a target of five-under and that served me well.
Honey Baisoya (66-64), one of the seven joint overnight leaders, did not enjoy a great start to the day as he was one-over after five holes because of two early bogeys. He then got into his groove with three birdies between the sixth and the ninth. The highlight of his round came on the 10th where he made an eagle-two after driving the green and sinking a 10-footer.
After suffering a minor hiccup with a bogey on the 11th, Honey drained four birdies to end up with a card of 64. The pro from the Delhi Golf Club made some spectacular birdies on the back-nine. He drove the green on the 14th before making a two-putt and then almost holed it from 153 yards on the 18th.
"After the quiet start, the birdies on the sixth, seventh and ninth really helped me settle down. I found the bunker on the ninth but recovered well to extract a birdie. Thereafter, the eagle on the 10th was a huge confidence-booster. As for the plan for the next two days, I changed my swing a couple of days back so I'm working on that aspect and also looking to improve on my hitting. My goal this week will be to try and break the 20-under mark."
Udayan Mane, the overnight joint leader, returned a bogey-free 67 to drop to second place. Samarth Dwivedi posted a 65 to move up eight places to joint second.
Om Prakash Chouhan of Mhow, another round one leader, was a further shot back in fourth position.
Among the other prominent names, joint round one leader Digvijay Singh from Gurgaon slipped to tied 16th at four-under-138. Delhi's Rashid Khan was also in tied 16th while Chandigarh's Ajeetesh Sandhu was in tied 20th at three-under-139.
Eagle watch
Delhi's Naman Dawar, also one of the leaders in round one, sank two eagles, both chip-ins, during his second round of 70. Naman holed it from the bunker for an eagle-two on the 10th. Dawar closed the day tied in eighth at six-under-136.
Sri Lankan on the up
While defending champion Anura Rohana missed the cut by three shots, his compatriot K Prabagaran produced the tournament's best score, an eight-under-63, to end the day tied fifth at seven-under-135. Prabagaran's sizzling error-free round saw him follow-up his eagle-two on the fifth with birdies on the sixth, seventh and eighth.
The Lankan holed his approach shot from 125 yards for an eagle on the fifth. Prabagaran was a picture of consistency in round two as he missed just one green in regulation.
With the PGTI becoming an 'Open Tour' from 2018 onwards, there is no restriction on the number of foreigners playing in the tournament. The foreign challenge was led by Sri Lanka'sRohana, N Thangaraja (2018 PGTI Order of Merit leader) and K Prabagaran; Bangladesh's Md Zamal Hossain Mollah; Australia's Kunal Bhasin and South African Damian Naicker.
Earlier, the PGTI had a limit of a maximum of 15 foreign players in each tournament till date but now there will be no such restriction on foreigner earning their cards through the PGTI Qualifying School. The tour also hopes to align itself with the Official World Golf Ranking (OWGR) system thus attracting world ranking points for all its future events.
Close Story