Listen to a book straight from the author in Pune's human libraries
Human library is a concept where you can borrow people instead of books and listen to their stories.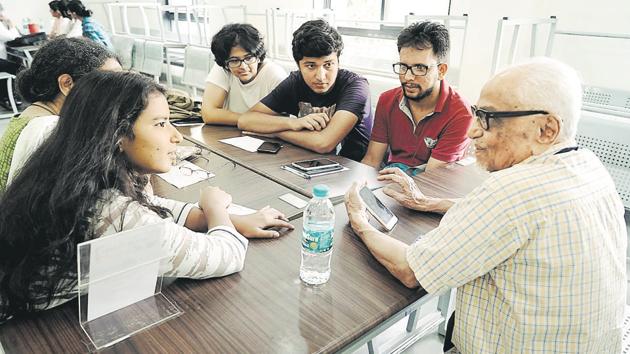 Updated on Apr 22, 2018 02:30 PM IST
Hindustan Times, Pune |
, Pune
Preeti Devnani
In the age of e-books, a novel idea has taken over Pune. In a throwback to oratory traditions, human libraries allow an individual an opportunity to listen to stories straight from the source. The listeners can ask questions and clear any confusion as they come, something impossible to do when flipping through the pages of a normal book. 'Don't judge a book by its cover,' is a common metaphor used by the Human Library Pune chapter.
The Human Library is an international organisation and movement which began in Copenhagen, Denmark in 2000, with an aim to bring people together and break social boundaries. The project has become an international phenomenon with a presence in almost 70 countries. India has not just adopted the concept, but has readily embraced it, allowing it to quickly find a place in Indian cities.
Pune's new library
Colonel (col) Navneet MP Mittal (retd), is the chairman and founder of Global Harmony Trust (GHT), an NGO with trustees that are mainly Indian Army veterans with vast experience in organising small to large events with a social impact.
"The concept of human library seemed interesting as a method of bringing about social change in society. We strongly believe in the indomitable spirit of human beings as well as their diversity. Therefore, we felt that we should take up this wonderful idea and bring it forward. No two individuals are same. There is always much to learn and exchange between individuals. There are 7 billion human books and each book is different from the other. This powerful concept has propelled us to be associated with The Human Library , Denmark, and organise this event in India," explains col Mittal, founder, Human Library Pune Chapter.
Novel concept?
"The human library offers its patrons an opportunity to become readers, by taking a person out on 'loan' for a conversation on the topics/issues that they represent. A police officer, for example, would talk about stereotypes and prejudices that police officers face during their job and answer any questions the reader may have about the topic," explains Eishna Mittal, book depot manager, Human Library Pune Chapter. Conversations are offered for duration of thirty minutes. It is not a storytelling session, but an opportunity to share personal experiences with a built-in question and answer section. The outcome and direction of the session is dependent on the readers' questions.Both parties have the privilege to end the conversation at any point.
Meet the books
Anyone with a unique story to tell can become a book. Whether it is a story of human triumph over adversities or experiences of prejudice, everybody has a story to tell.
"A human book is a person who has volunteered to challenge prejudice through insightful conversation with members of the public. They will have a title that relates to their experience of prejudice and/or discrimination. The title they choose must directly reflect this in order to challenge the reader to reflect on the stigmatisation that occurs in society," says Eishna.
While birthday wishes and condolences are sent through social media comment sections, sitting across another human being and listening to their stories might be what we need in order to get back a human connection.
Close Story