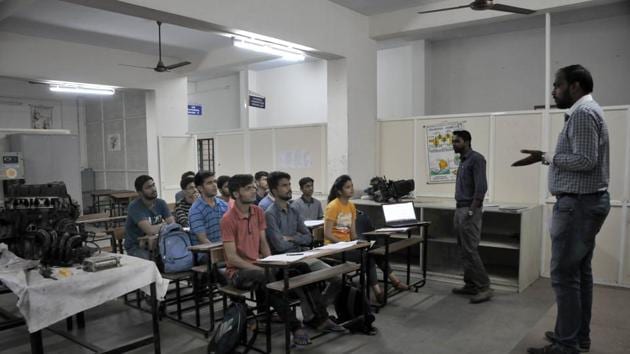 Sinhgad Institutes' crisis: Six Pune teachers 'illegally' fired over tenure completion
This comes on the backdrop of the ongoing court case between the Sinhgad Technical Education Society (STES) and the teachers who had been denied 15 months salary.
UPDATED ON APR 07, 2018 03:53 PM IST
Six teachers from Sinhgad group of institutes were asked to step down from their position and discontinue as employees in the first week of April, with the most recent discontinuation taking place on Thursday. This comes on the backdrop of the ongoing court case between the Sinhgad Technical Education Society (STES) and the teachers who had been denied 15 months salary. Recently, following the last court hearing, as directed by the Bombay High Court, the social welfare department (SWD) had deposited a sum of Rs 117 crores to be used to clear salary dues of the teachers. While the process was in the pipeline, the court, to safeguard the teachers, had ordered against any discontinuation or termination of the teachers.
"This is in complete violation of the court's directive to safeguard the teachers who had been protesting against the institute's atrocities. Out of the six individuals fired, three were petitioners while the other three were following the non-cooperation movement," said Sachin Shinde, who was also suspended from Sinhgad Technical Education Society's (STES) Shrimati Kashibai Navale College of Engineering in 2017.
The teachers were sent a letter of discontinuation this week citing the lapse of tenure as one of the reasons, without any prior notification.
One of them, Tushar Atole from Sinhgad College of Engineering (SCOE), Wadgaon Dhayari, was also sent a similar letter on April 3 and later found out that his database was entirely deleted by STES. "It was shocking. They would not let me into the campus the next day and did even not let me use my biometrics. They had deleted our account database entirely. I was on a probation period of one year, which was completed on April 3, and there was no such clause of filing an application for continuation. No one has ever done that, but now, out of the blue, they are doing this for our association with the agitation. If they are trying to scare us, then they are wrong. We will fight this injustice too," said Atole. Two more teachers have faced the same consequence at the same institute.
An official from STES, on terms of anonymity, denied the allegations made by the teachers and said that even if any one was dismissed from service, it was because their tenure was over.
Similarly, Amit Rana , an assistant professor at Sinhgad Institute of Management (SIOM), was asked to discontinue his services on April 5 on grounds of tenure expiry. "Their argument does not stand because my tenure will only legally end in December 2018. After it's completion, there is no provision to reapply for continuation. Considering the circumstances, they are now targeting us," said Rana.
According to Atole, the move is to single out the agitating teachers. To seek proper reasoning for his discontinuation, he had visited STES's Erandwane office and was allegedly insulted and asked to leave. "I was tossed from one end to the other. The principal asked me to talk to STES chief MN Navale and vice versa. Navale even threatened me with police arrest if I do not accept the letter and try to go to work the next day," added Atole.
Apart from them, two other teachers have also been fired from the Sinhgad Institute of Technology and Science (SITS).
Close