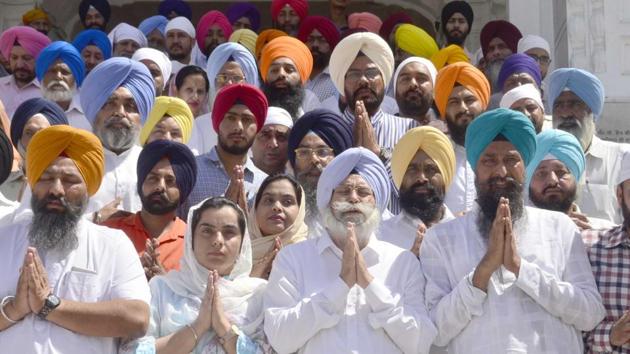 Led by Phoolka, AAP 'Punjab Yatra' begins from Amritsar
"Under the programme, I will visit various district headquarters along with a team of MLAs to listen to problems being faced by the people. We will then raise those issues in the assembly." Phoolka elaborated 
UPDATED ON MAY 01, 2017 11:20 PM IST
Accompanied by various Aam Aadmi Party (AAP) MLAs, Punjab assembly's leader of Opposition advocate HS Phoolka began the 'Punjab Yatra' by paying obeisance at the Golden Temple, Durgiana Temple and Ram Tirath temple in Amritsar on Monday.
Other party MLAs who were present included Baljinder Kaur, Kultar Singh Sandhwan, Rupinder Kaur Ruby, Aman Arora, Meet Hayer, Manjit Singh, Kulwant Singh Pandori, Master Baldev Singh and Primal Singh.
"Since we have been elected MLAs, we are free from any intervention or pressure of the Delhi leadership. These MLAs are with me," Phoolka to the media outside the Golden Temple.
Lashing out at the Congress-led Punjab government, the AAP MLA from Dakha said state government was making excuses to avoid fulfilling its poll promise of debt-waiver for farmers, which is "fraud".
"Now Congress ministers are demanding that the Centre should announce the debt-waiver. If they are not in the position to waive off a debt, why did they promise to do so in the first place?" he said.
IDEA BEHIND THE 'YATRA'
Elaborating on the Punjab Yatra, Phoolka said people approach leader of the Opposition at Chandigarh for redressal of issues in the Vidhan Sabha, which causes inconvenience. "So, in order to save people from undue harassment, this programme — Punjab Yatra — has been chalked out," he said.
"Under this programme, I will visit district headquarters along with a team of MLAs and listen to the problems being faced by the people and then provide a solution by raising these issues in the assembly," he elaborated.
Phoolka said the programme will help them assess problems at the grassroots level that are otherwise not highlighted.
Later, Phoolka and team listened to the issues raised by delegations representing different constituencies of Amritsar district.
Close