At Golden Temple, Sukhdev Singh Dhindsa apologises for 'mistakes', says SAD must introspect
Says SAD needs to introspect at this stage but stays away from commenting on party leadership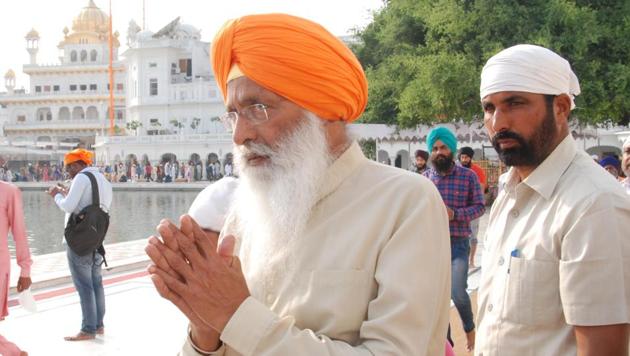 Updated on Oct 10, 2018 09:57 AM IST
Veteran Shiromani Akali Dal (SAD) leader and Rajya Sabha MP Sukhdev Singh Dhindsa on Tuesday visited the Golden Temple to "apologise for his mistakes" after remaining incommunicado for over a week since he resigned from all party posts.
Though Dhindsa, who reached the city by air after reportedly completing his pilgrimage to Takht Sri Hazur Sahib in Nanded, Maharashtra, stayed away from commenting on the SAD leadership, he underlined that the party needs introspection at this stage.
Even the SGPC staff was not aware of his visit in advance. Apart from paying obeisance at the sanctum sanctorum of the Golden Temple, he also paid obeisance at Akal Takht, the highest temporal seat of the Sikhs.
"For many days, I wanted to come here, but it did not materialise. I offered ardas to the Guru to seek his blessings," Dhindsa said while interacting with the media.
"I am here to apologise to the Guru for the mistakes I have committed in my life. I also prayed for good health," he said.
He, however, stayed away from commenting on the party leadership, even as mediapersons asked him many questions about the ongoing crisis in the Akali Dal.
Known as a 'taksali' leader of SAD, the Rajya Sabha MP said, "I have already said in my resignation what I wanted to say. Right now, I will not say anything about the party or anyone else. But yes, the party needs introspection at this stage."
About the stand taken by three Majha leaders, Dhindsa said refused to say anything. On the demands of those staging a dharna at Bargari, he said, "It is not only their demand. It is the demand of the entire panth, including SAD, that the sacrilege culprits should be brought to justice."
His resignation had triggered a crisis-like situation in the party, with three more senior leaders — Lok Sabha MP Ranjit Singh Brahampura, former MP Rattan Singh Ajnala and ex-minister Sewa Singh Sekhwan — going public with their grouses, thus raising questions over the current leadership.
Close Story