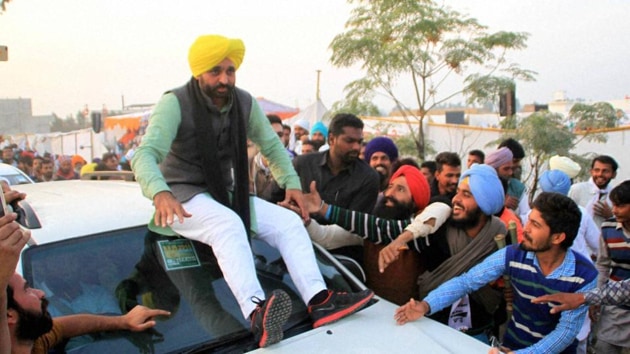 Kejriwal names Bhagwant Mann Punjab AAP chief with 'no-drinking' rider; Ghuggi sulks, Khaira quits as chief whip
Aman Arora, MLA from Sunam, has been made co-convener.
UPDATED ON MAY 09, 2017 10:06 AM IST
The Aam Aadmi Party (AAP) on Monday announced comedian-turned-politician and Sangrur MP Bhagwant Mann as its new president of the Punjab unit. Mann replaces another comedian-turned-politician Gurpreet Singh Waraich "Ghuggi'. The decision was taken at a meeting of the party's top leaders with Punjab MLAs and other leaders chaired by Arvind Kejriwal, AAP's national convener and the Delhi chief minister, on Monday evening.
Sources said Kejriwal told those present at the meeting that Mann "will not drink now, and will be sacked if he does".
The decision was announced by Kejriwal after he claimed a majority opinion in favour of Mann following one-on-one meetings with the MLAs. "The majority of whom I spoke wanted (Bhagwant) Mann to lead the state," he announced.
Read more | Factors that work for Bhagwant Mann
Mann was linchpin of the AAP's campaign during the state polls. Considered a confidante of Kejriwal, Mann was critical of the party's strategy during the polls, but never went against party convener.
In reaction, the party's chief whip in the Punjab assembly, Sukhpal Singh Khaira, quit his post despite Kejriwal asking him to continue. Stating that he won't be able to handle multiple duties, Khaira said: "I would like to as ordinary volunteer. Give the posts to some one more deserving." The Bholath MLA was also in the race for the coveted post.
An upset Ghuggi said: "The party could have told me to resign over telephone. Why this lengthy exercise?" "It looks very awkward. They removed me after succumbing to the pressure from Mann. I held party reins during the crisis, sacrificing my work. When they made me convener, I had to keep aside my movie projects that cost me a lot financially," he added.
Aman Arora, MLA from Sunam, has been made "co-president". This is purportedly to strike a communal balance — while Mann is a Jat Sikh, Arora is a Hindu face. There was widespread belief that the AAP did not perform well in the Punjab assembly polls held last February as Hindus got worried about its reported ties with Sikh radicals. This was mentioned by some top leaders at the party meeting on Monday too, it is learnt.
Jagraon MLA Sarabjit Kaur Manuke, who comes from a Dalit community, will be made deputy leader of the AAP legislature party.
The decisions have been ratified by political affairs committee (PAC). the party's highest decision-making body.
AAP seems to have made a departure from its ideology of not giving big names to the posts held by their leaders when they decided to call Punjab convener as president. The demand had come from leaders and cadres in Punjab.
NRI supporters of the party had last week written to Kejriwal against making Mann the party chief and termed him greedy and narcissistic. Earlier, in a communiqué sent to Kejriwal after the results in March, the NRI supporters had blamed AAP's state in-charge Sanjay Singh and observer Durgesh Pathak for party's defeat.
Close