Capt retracts 'ISI-link' remark, but SFJ says damage done
Updated on Apr 27, 2016 10:41 PM IST
"If you were tortured in Punjab during the rule of Captain Amarinder Singh, contact us," was the alert on the Twitter page of US-based Sikhs for Justice (SFJ) group on April 7.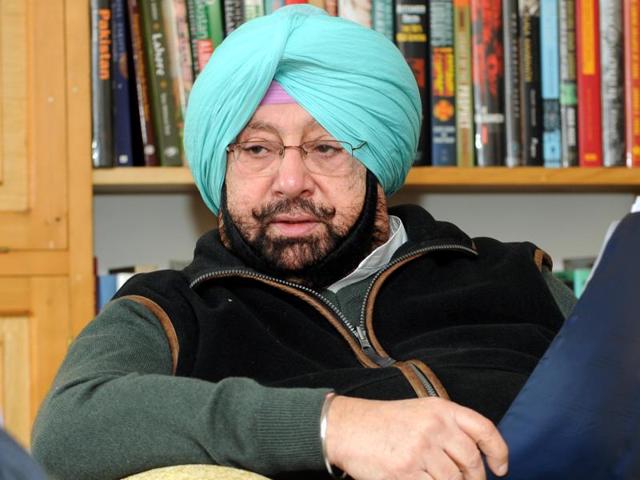 "If you were tortured in Punjab during the rule of Captain Amarinder Singh, contact us," was the alert on the Twitter page of US-based Sikhs for Justice (SFJ) group on April 7.
"We will never forget Congress and Captain, we will follow them wherever they go," it tweeted on April 22. On April 23, in response to the SFJ's filing of a case of torture in Canada, Punjab Congress president Captain Amarinder Singh had to cancel his Toronto and Vancouver visits.
Read: Amarinder Singh cancels Canada visit following torture case against him
The alert by Sikh activist group on the social media saw some Canadian Punjabis send it cases of their "torture" during the tenure of the former Punjab CM. One of them was filed in a Canadian court just before the Punjab Congress president could land in Canada, forcing a cautious Amarinder to cancel his Punjab election campaign in Toronto on Saturday and Sunday and Vancouver on Friday.
It is not the "torture" case that has the SFJ gunning for Amarinder. The group accuses him of giving a clean chit to Congress leader Jagdish Tytler, accused of instigating the 1984 riots. Gurpatwant Singh Pannun, legal adviser to the SFJ, an attorney in New York, had filed a case against Punjab chief minister Parkash Singh Badal during his visit to the US in 2013. The case was for "shielding Punjab police officers who indulged in extra-judicial-killings during his tenure as CM", a charge it also lays against Amarinder.
Last week, Amarinder had hit back at the SFJ, saying it was "playing into the hands of anti-India forces such as Pakistan's Inter-Services Intelligence (ISI) to embarrass India by projecting human rights violations as if India was not a democracy but a dictatorship". The SFJ threatened him with defamation suit and Amarinder on Wednesday beat a retreat in a statement saying, "I have come to know that the SFJ has come out openly with a statement that they have nothing to do with the Pakistani intelligence agency. As the SFJ has openly disavowed any links with the ISI, I will retract my statement."
But Pannun says the damage has been done. Speaking to HT from the US, he said: "Amarinder made the statement on purpose, as the western governments are extremely sensitive to the links of groups with counter-intelligence agencies of other countries. Merely retracting from the statement is not an apology. If somebody is charged with human rights violation, he needs to come clean."
Countering Amarinder's assertion that he left Congress in 1984 after Operation Bluestar, Pannun asked: "What really changed when he went back to the Congress? How can he say that Tytler is innocent, when the world knows and we have witnesses who have given affidavits to the commissions of inquiry?" On Amarinder's saying that the group is sympathising with the Aam Aadmi Party (AAP), Pannun said the SFJ was not targeting any political party but individuals "who were directly involved or shielding those involved in the killing of innocent Sikhs".
Read: Visit stalled, Amarinder goes to Canada via Skype from US!
Sonia, Manmohan, Modi earlier targets
The activist group's legal warfare includes creating legal hurdles for top Indian political leaders and personalities visiting the US and Canada, whom it accuses of "involvement in anti-Sikh riots and extra-judicial killings" during the days of terrorism in Punjab.
It had earlier filed complaints against Congress president Sonia Gandhi, former prime minister Dr Manmohan Singh and Bollywood actor Amitabh Bachchan over 1984 riots, forcing them to hire lawyers in US and Canada over the fears of being issued summons during their visits.
Pannun, a clean-shaven Sikh, prefers to call himself legal adviser of the SFJ, saying there are others who manage the social media and other campaigns. But his team, claims Pannun, comprises "more than 10-lakh people who had supported our online petition, 'We the People', to urge US president Barack Obama to cancel his meeting with Prime Minister Narendra Modi over the perpetration of violence against Muslims, Sikhs and Christians".
Success in Portugal
This February, the SFJ had put on its social media platforms an appeal from "Bhai Pamma" to organise shukrana diwas (thanksgiving) in local gurdwaras after Portugal had declined the Indian request to extradite Khalistani terrorist Paramjeet Singh "Pamma". SFJ legal adviser Gurpatwant Singh Pannun had stayed in the European country for several days to coordinate Pamma's release. In January 2013, Pannun flew to Thailand to fight the Thai court order to extradite Jagtar Singh Tara, alleged assassin of former Punjab chief minister Beant Singh.
Still streaming in
Last October, the Ministry of Communication and Information Technology had put the SFJ website on blocking notice over "objectionable content" under Section 69-A of the Information Technology Act. The Indian government has since blocked public access to its URL in the "interest of sovereignty and integrity of India"; this after the SFJ's Facebook page was, too, was blocked at its behest. Its Twitter handle and Youtube channel are still streaming videos of parades and nagar kirtans for 'Sikh Referendum 2020', its campaign for "Punjab's right to self-determination".
Personalise your news feed. Follow trending topics