Prime Minister's Malout rally gives BJP cadres a boost
Updated on Jul 12, 2018 11:08 AM IST
PM said NDA government is trying to restore respect of farmers and soldiers, and is committed to doubling farmers' income by 2022.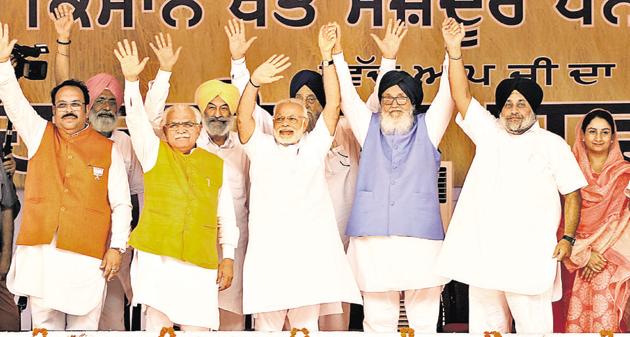 "Modi-ji gave me a 30-second handshake!" beamed the BJP's Muktsar district unit chief, Rajesh Phatela, talking about his first handshake with Prime Minister Narendra Modi behind the stage at the 'Kisan Kalyan' (farmer welfare) rally in this small urban centre of the district in Punjab's Malwa region on Wednesday.
Phatela's reaction was a reflection of the mood among BJP cadres in Malwa — it forms the largest chunk among the three regions of Punjab — and thus the rest of the state.
Co-organised by the Shiromani Akali Dal (SAD), BJP's senior ally in the state, the rally had party supporters pouring in "from Amritsar, Pathankot, Jalandhar, Ludhiana, Ferozepur and Bathinda districts", Phatela said. Attendees came from neighbouring Haryana and Rajasthan, too, as Malout's geographical location at the cusp with these states was a reason why it was chosen as the venue.
The rally is part of Modi's "thanksgiving" spree after the Union government hiked minimum support price (MSP) for crops.
Former state BJP chief Kamal Sharma, who is from Ferozepur, brought crowds in 50 buses. "Since Ferozepur is a paddy-dominated region, the rural population is in jubilation," he claimed, "This MSP hike will definitely give a boost to the SAD-BJP alliance (in the coming Lok Sabha polls)."
Sharma camped in villages of Ferozepur for three days, holding meetings with the farmers to garner crowds for the rally. He further claimed, "It is for the first time that the Centre has shown a big heart towards the farmers who have got due returns for their hard labour in the form of ₹200 MSP hike (for paddy)."
Harsimrat from Ferozepur now?
Dissident SAD MP Sher Singh Ghubaya from Ferozepur remained absent amid a buzz among the crowds that the SAD might get the Bathinda MP,
Harsimrat Kaur Badal, wife of SAD president Sukhbir Singh Badal, to contest from Ferozepur in 2019.
"She might get the ticket from Ferozepur this time," said an elderly man from a village there. His accompanying Akali supporters nodded in agreement with his political observation as he added, "That way, the SAD might retain the Ferozepur seat."
Ghubaya's son Davinder Ghubaya is a Congress MLA from Fazilka assembly segment in Ferozepur district while Sukhbir's constituency Jalalabad, too, is in the same area that Ghubaya considers his stronghold.