Farmers' protest delays release of gharials in Beas
Updated on Dec 04, 2017 01:22 PM IST
Farmers are against the move as they fear attacks on humans, crops.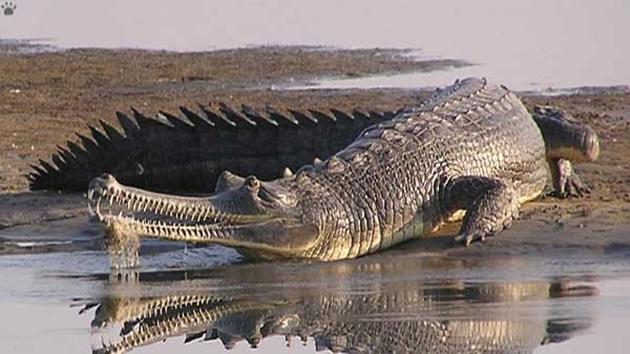 Hindustan Times, Tarn Taran |
, Tarn Taran
Anil Sharma
A continuous protest of farmers against the release of gharials, the Indian variety of crocodiles, in the Beas in Tarn Taran district, has delayed their release in the river, and the wild life department has not fixed any date for doing so.
As many as 25 gharials were brought from Madhya Pradesh and they have kept at the Chhatbir zoo in Mohali. These gharials will soon be released in the river Gagrewal area near Harike wetland.
Farmers of nearby villages are opposing the release, fearing attacks on their fields and people by the animals.
District forest officer (DFO) Charanjit Singh said the issue of farmers had not been resolved yet. "Soon after solving the farmers' concerns, we will release the 25 gharials in the river."
"All the arrangements of releasing the endangered species have been completed by a committee of high-level officers. We are in regular touch with farmers of the area for making them aware of the benefits of the gharials, and the issue will be sorted out soon."
He said, "The department officials had been educating the farmers for the past two years that these gharials belonged to fish-eating species and do not attack human beings at all."
"There has been no any case of the people having been attacked by these reptiles. Interestingly, the water in which gharials live is also fit for drinking," Charanjit said.
The Punjab government is trying to check the decline in the population of the reptile, which falls in the category of the critically endangered species.
This projec had been hanging fire for the past 12 years. During the previous Congress regime (2002-07), the proposal was moved to the central government for approval in 2005 to reintroduce the fish-eating gharials in the Beas.
The best time for releasing the animals into the river is between December and February, he said.
"The reptile is at the top of the food chain in freshwater sources. Its presence in the river will help increase the yield of fish for human consumption," he said.
Farmers' memo to CM
In a memorandum sent to Punjab chief minister Captain Amarinder Singh on November 29, through the DFO, the farmers residing near the river demanded, "If the state government wants to release the reptiles in the Beas, It should purchase the farm land of the farmers falling near the river, . Otherwise, they will not allow the government to release the animals in the river."