Former Dera Sacha Sauda follower says, 'Castrated sadhus were given licence to kill'
Updated on Aug 29, 2017 12:30 PM IST
Fatehabad resident underwent castration at the age of 17 at dera hospital in Gurusar; claims that castrated followers were forced into crime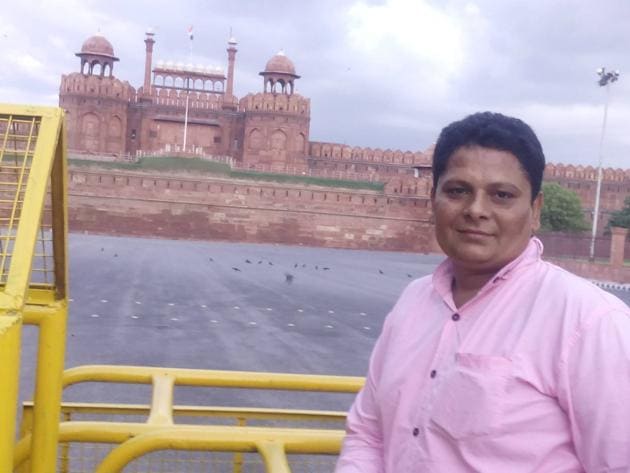 He was 13 when he formally joined Dera Sacha Sauda in January 1996. A guitarist by profession, Hansraj Chauhan was the sound chief at the dera. A follower from Fatehabad in Haryana, he was devoted to the sect chief, Gurmeet Ram Rahim Singh, but little did he know what his faith would cost him.
In 2000, aged 17, he underwent castration at the hands of Dr Pankaj Garg and Dr MP Singh in Gurusar, Sri Ganganagar district of Rajasthan.
Chauhan said, "We were made to feel it was the right thing to do. I was unconscious for three days and did not realise what had happened, till I was in agony. Eventually, my chest started growing and the hair on my body vanished."
It did not end there. Overcome with emotion, he narrated how the castrated "sadhus" at the dera were forced into crime.
"I was offered a licensed pistol to conduct heinous crimes. Thankfully, I was educated enough to refuse. But the others weren't so lucky. They fell for it and were used for crime," adding, "we were handed round black tablets to suppress our sexual desire."
In 2002, Chauhan filed a petition against his guru, among others from the dera. In an order in December 23, 2014, a Punjab and Haryana high court bench confirmed that Chauhan, a minor then, was possibly castrated on the orders of Ram Rahim. The petitioner in the case, the 34-year-old alleged that 400 others were also castrated and presented the details of 166 persons.
Of the 166 people on the list, three were jailed for the murder of journalist Ram Chander Chhatrpati in 2002. Among them, prime accused Nirmal Singh was granted bail in January 2017. The other two are Kuldeep Singh and Krishan Lal.
A report of the medical board, comprising medical superintendent, General Hospital, Sector 16, Chandigarh, states, "No testes were present in the scrotum and a possibility of castration cannot be ruled out."
CASTRATION CASE AGAINST DERA CHIEF MOVING AT SNAIL'S PACE
The castration case will come up for hearing on October 25. But the CBI has failed to complete its investigation despite 10 interim status reports being submitted in the high court. The complainant's counsel, Navkiran Singh, said, "The case is moving slowly and the CBI is seeking more time during hearings."
The CBI has asked for an additional time of three months during each hearing. Deputy superintendent of police (DSP), Tohana, Fatehabad, has also filed an affidavit which states that given the threats against the petitioner, police have provided him security cover.
On the other hand, Gurmeet Ram Rahim Singh has filed constant applications, seeking exemption from personal appearance in court citing ill-health or religious function. Despite attempts to secure a response through video, he pleaded for an exemption.
The bench also observed that there was a need to oversee the investigation and ensure it was being proceeded with in accordance to law and no force or influence was being brought against the investigating officials by interested persons. Senior counsel Anupam Gupta was also appointed amicus curiae to bring to light the high points and deficiencies in the reports and help the court formulate appropriate guidance throughout the investigation and a smooth trial.
KNOW THE CASE
1. In December 2014, high court bench confirms petitioner, a minor then, was castrated, possibly on orders from Gurmeet Ram Rahim Singh
2. Petitioner also alleges that 400 others were castrated and mentions details of 166 such followers
3. Medical report confirms that castration cannot be ruled out as "no testes was present in scrotum".
4. CBI has failed to complete investigation despite 10 interim status reports
5. DSP, Tohana, Fatehabad, has filed affidavit stating that petitioner was placed under police security due to threats