Gang targeting car drivers at UT signals busted; kingpin held
Police claim to have busted a gang of three looters with the arrest of the alleged kingpin from Delhi on Friday.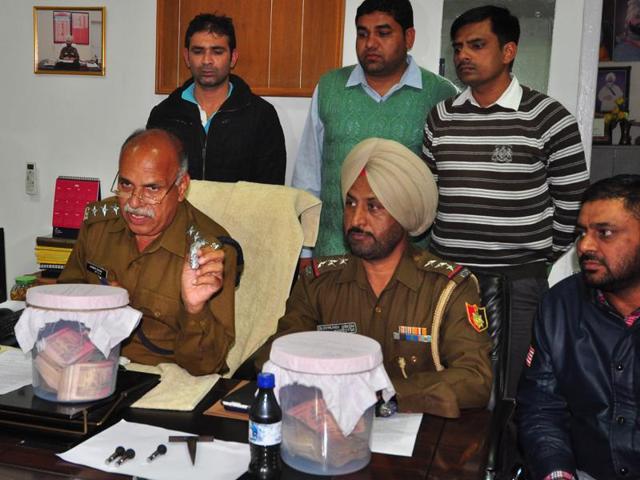 Updated on Jan 31, 2016 12:50 PM IST
Police claim to have busted a gang of three looters with the arrest of the alleged kingpin from Delhi on Friday.
The gang used to whisk away valuables from cars at traffic signals by distracting the driver with either a flat tyre ruse or getting the occupant out of the vehicle by claiming an oil spill. The gang, based in Delhi, had been operating in the tricity for the past two months. They had last targeted a Sector-33 jeweller on January 13 — and are suspected to be involved in at least five such crimes.
With the arrest — carried out in Delhi by a UT crime branch team on Friday — two cases registered at Sectors 17 and 36 police stations have been solved, the cops have claimed.
Police have also recovered Rs 4.5 lakh and 'special tools' used to puncture cars from the main accused Inderjit alias Inder (22), a resident of Tigri camp, Delhi. His two accomplices, Amit and Arun, managed to flee. A new car and a scooter used to recce target areas have also been recovered.
Modus operandi
Crime branch inspector Gurmukh Singh said, "The gang members belong to Tamil Nadu and used to visit the tricity on weekly and fortnightly basis to commit the crime. First, they did a recce of the area they planned to target on two-wheelers. They followed cars in which the driver was carrying a cash bag and punctured the tyre. Later, they spilled oil near the front of the vehicle. Taking advantage of the distracted driver, they made away with bags and valuables."
He added that a special tool to cause tyre punctures had been recovered. In some case, the accused deflated a tyre within seconds. "Cars where they saw bags in the backseat were targeted," the inspector added.
Gang last targeted Sector-22 jeweller
DSP (crime) Jagbir Singh said the breakthrough in busting the gang came from mobile phone call record details after the owner of a jewellery store in Sector 22, who resides in Sector 33, was looted of his cash bag containing Rs 4.5 lakh at Aroma Petrol Pump on January 13. He added that the CCTV cameras installed at the light point had also helped in identifying the accused. In his complaint, the victim Manish Aggarwal had said that when he went to get air for flat tyres of his Honda City at the pump, three men in their 20s signalled to him that petrol had spilled from his car. When he got out of the car to check, the men made away with his cash bag. Jagbir added that Inderjit had confessed to his involvement in the crimes.
The crime method
1 The gang first did a recce of the area they planned to target on two-wheelers
2 They followed cars in which the driver was carrying a cash bag and punctured the tyre on sensing an opportunity
3 Later, they spilled oil near the front of the vehicle
4 Taking advantage of the distracted driver, they whisked away bags and valuables
Close Story
Personalise your news feed. Follow trending topics