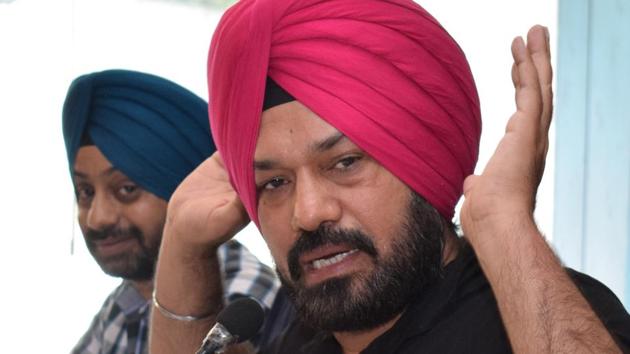 Ghuggi quits AAP: 'Can't work under Mann, party deviating from principles'
Says Mann unfit to lead party in Punjab, Patiala MP Dharamvira Gandhi and Sukhpal Khaira were better choices.
UPDATED ON MAY 10, 2017 08:22 PM IST
"I cannot work under the leadership of a person who has been appointed on the condition that he will not drink (liquor)," said actor-politician Gurpreet Singh Waraich 'Ghuggi' as he resigned from the Aam Aadmi Party (AAP) on Wednesday, two days after he was replaced as the Punjab unit convener to make way for Sangrur MP Bhagwant Mann.
"I am upset at the way I was removed... With a heavy heart, I resign from the primary membership of the AAP," he told reporters at a press conference here. His resignation further hits the party which is already facing the heat over allegations by a former Delhi AAP minister that chief minister Kejriwal took a "bribe" of Rs 2 crore.
He suggested that the party could have given the post to Patiala MP Dharamvira Gandhi — who remains suspended from the party — or Sukhpal Singh Khaira. "I must admit that (HS) Phoolka Saab was a better choice than Mann," he added.
Ghuggi said that during his tenure as convener he led the party through a crisis and tried to bring in big leaders "who could have made AAP victorious in Punjab... but all of them were stopped from entering the party".
He said there were complaints against the observers stationed in Punjab by the central unit during the assembly elections but the leadership was not willing to listen. He alleged that the party looks to have deviated from its principles, so he did not find it appropriate to be a part of it anymore.
What was the hurry?
"The way Bhagwant Mann was reprimanded by Kejriwal at the time of his being made state president — with the condition that if he's found drinking he will be removed from the party's top post, and later Mann saying that he will step down if caught drinking — was not the right way of saying things," said Ghuggi.
He said Mann is a good stage performer but is not in a position to hold the reins of the party at this time.
"Mann has so much on his hands. He is an MP and was campaign committee in-charge. Also, by not being made convener he wouldn't have lost anything," said Ghuggi, asking, "What was the hurry to make Mann president without taking volunteers into confidence?."
Adding to his contention of the day Mann was picked at a meeting of Punjab leaders in Delhi, Ghuggi further said, "If they had to do this, what was the need to indulge in a lengthy exercise? They could have simply removed me and brought in the new person. Because, when I was made the convener removing Sucha Singh Chhotepur, it was simply announced."
Ghuggi, who had joined the party in February last year after a successful Maghi Mela rally turned AAP into a serious contender in Punjab, was made state unit chief in September following Chhotepur's ouster over a purported bribery sting.
Where's Kejriwal?
Ghuggi also asked why Kejriwal has not come to Punjab after the party's disappointing show in the state polls, in which it won 20 seats out of the 117 after initially being seen as frontrunner and Congress formed the government. "Almost two months have passed after the poll results (on March 11), but Kejriwal has not come to Punjab to address the people. He used to come to Punjab five times a month, but after the results he doesn't have five minutes for the state."
Close