How kingpin of ATM heist gang got stuck in realty slump, and returned to crime
"I was trying to sell the plots but got no buyers. I had no money," Inderjeet allegedly told the cops. He then planned to loot the ATM of Oriental Bank of Commerce with Amrik Singh. "No one was helping my family when I had no money," cops quoted him as having told them. "We were sure we won't get caught as we had made 33 ATM heists."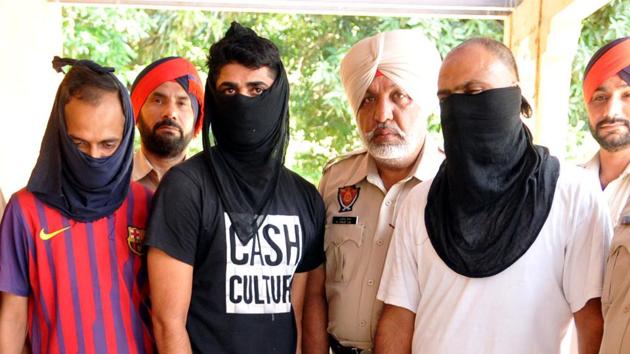 Updated on Jul 26, 2017 09:05 AM IST
The alleged mastermind of 34 ATM heists in Punjab, Himachal Pradesh, Uttar Pradesh and Uttarakhand, 41-year-old school dropout Inderjeet Singh of Jalandhar's New Ganesh Nagar had invested his ATM theft haul into two plots. Then came a slump in the realty market, and he was unable to sell them off. That's when his gang and he turned towards an ATM again.
The 34th on the gang's ATM heist list was Sultanpur Lodhi on July 20. Security camera footage from that ATM gave the police clue to a car that led to the arrest of Inderjeet Singh and two others on Monday.
Police said Inderjeet told them he had purchased a plot each — 22 marla land in all — in New Ganesh Nagar and Hajara village on the Jalandhar-Hoshiarpur road, besides a two-storey house. He had also deposited some cash in the bank accounts of his relatives, said investigators.
"I was trying to sell the plots but got no buyers. I had no money," Inderjeet allegedly told the cops. He then planned to loot the ATM of Oriental Bank of Commerce with Amrik Singh. "No one was helping my family when I had no money," cops quoted him as having told them. "We were sure we won't get caught as we had made 33 ATM heists."
A father of two, Inderjeet told the cop he had seen cash-loading teams fill up ATMs and noticed how it worked. To gain expertise in cutting the iron sheets in a short time, he used to bring sheets from the markets and practice at his in-laws' house in Hariana town of Hoshiarpur district, police said. It took him merely eight minutes to cut open the ATM at Sultanpur Lodhi.
For stealing cars, gang member Prince, who worked in a car showroom, sent him photos of keys through which Inderjeet made duplicates, said inspector general of police (IGP) Arpit Shukla. The pistols and cartridges were bought from Gurgaon in Haryana, he added.
Amrik too had purchased two plots and was constructing a house in Tarn Taran.
Close Story