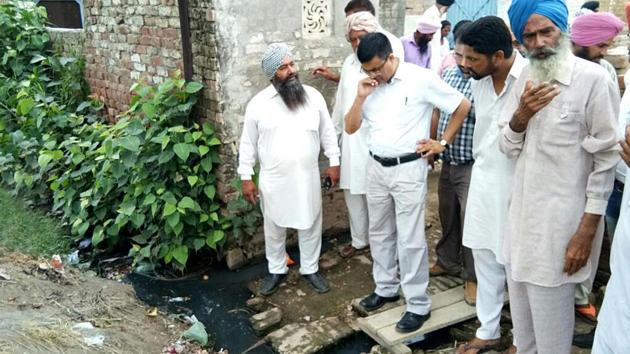 Now, diarrhoea outbreak hits Saholi village in Sudhar; claims two lives
65­-year-­old man, nonagenarian woman die of diarrhoea symptoms; Health dept springs into action, surveys village
UPDATED ON JUL 14, 2017 11:22 AM IST
After Giaspura and Jawahar Nagar, an outbreak of diarrhoea and gastroenteritis has hit Saholi village of Sudhar block, claiming the life of a 90-year-old woman and a 65-year-old man.
District epidemiologist Dr Ramesh Bhagat said water pipes running through drains could be the main reason of diarrhoea outbreak in the village. The outbreak came to light when the 65-year-old man suffered from loose motions and vomiting, and died later.
"While the 65-year-old man had symptoms of gastroenteritis, the nonagenarian woman had symptoms of diarrhoea, but it is yet to be ascertained whether she died of the disease, as she had been unwell for some days," he added.
After at least 118 cases of diarrhoea, teams of the health department held a survey in Saholi village on Thursday. A total of 10 patients were admitted at the local government dispensary.
The health teams found drinking water pipes running through filthy drains, pointing at a possible cause of diarrhoea outbreak in the area.
"Rural water supply and sanitation department has been asked to suspend water supply in the village and provide water to residents through tankers. There was no outlet of sewerage in the village, leading to filthy conditions," Dr Bhagat said.
The health department teams visited at least 345 houses in the village and distributed over 1,600 chlorine tablets among the residents. As many as 600 ORS packets were also provided to the residents.
Dr Neena Naka of Government Community Health Centre (CHC) at Sudhar, said a survey was conducted in the village on Wednesday afternoon when reports of people suffering from diarrhoea poured in. "When report of deaths was received on Wednesday evening, another survey was conducted," she added.
A large number of villagers with diarrhoea symptoms reached CHC on Thursday where doctors examined them and provided medicines to those suffering from diarrhoea.
Ludhiana district civil surgeon Dr Hardeep Singh Ghai said the health department was equipped to deal with any situation arising out of diarrhoea outbreak. "Our teams are holding surveys and medicines are being provided to those suffering from symptoms of diarrhoea," he added.
Close