Operation Bluestar Jodhpur detainees: CM Amarinder says will persuade Centre to withdraw plea against relief
Hindustan Times, Chandigarh |
HT Correspondent
Jun 24, 2018 12:27 PM IST
The CM informed the delegation that the state government was pursuing the case with the Union government, adding that he had already written to the Union home minister Rajnath Singh in this regard
Punjab chief minister Captain Amarinder Singh on Saturday assured a delegation of the Jodhpur detainees to take up their case with the Union government for withdrawal of an appeal in the high court against compensation.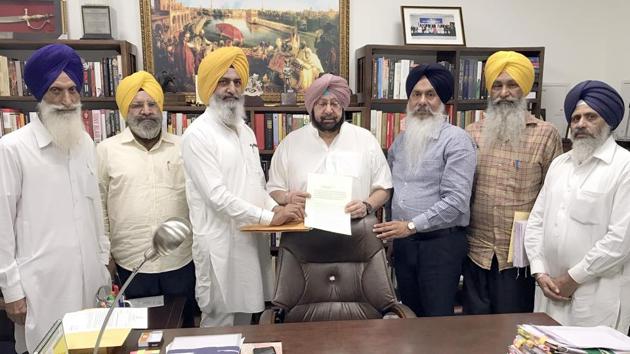 All the 375 arrested from the Golden Temple complex during Operation Bluestar in 1984 were later released in three lots between March 1989 and July 1991. Of them, 224 appealed for compensation alleging wrongful detention and torture. But the Central Bureau of Investigation contested the case and won it in the lower court in 2011.
Some died and others did not pursue the case further. But 40 detainees went in appeal against the order to the Amritsar sessions court and were awarded ₹4 lakh each as compensation with 6% interest (from date of filing of the appeal to payment of compensation) in April last year.
The court had held the Union and state governments as jointly liable for payment of the compensation. Though the Punjab government had given an undertaking to the court to pay half the amount, the Union government moved an appeal in the Punjab and Haryana high court against the order.
Talking to the delegation members, including Patti MLA Harminder Gill, advocate Jasbir Singh Ghuman, Raj Singh, Wassan Singh, Tarsem Singh Khela and Gurdarshan Singh, the CM said the Union home minister should retract the appeal and contribute the 50% share which the central government had been held liable to pay as compensation.
The CM informed the delegation that the state government was pursuing the case with the Union government, adding that he had already written to the Union home minister Rajnath Singh in this regard.
In a letter to Rajnath on Wednesday, the CM said the Union government's appeal against the compensation had evoked a strong reaction among the Sikh community. It was further likely to lead to an avoidable sense of alienation and perceived injustice among the community, the CM said.
"If Centre fails to pay us compensation, the state should give it from its own pocket," demanded Ghuman.