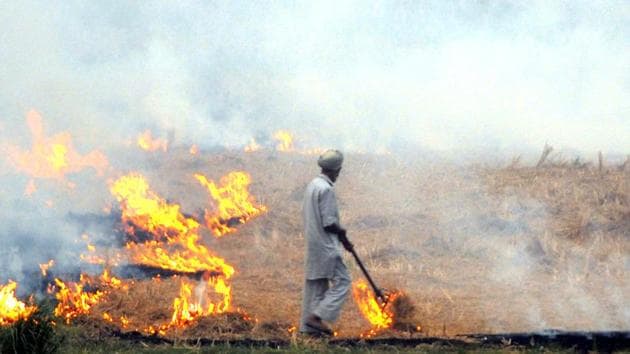 Punjab farmers defiant, burn paddy straw even as govt threatens to stop subsidy
Farmer unions have been telling farmers to burn the straw until the government doles out some funds per acre for expenses that go into managing it by other means.
UPDATED ON OCT 03, 2017 08:31 PM IST
Seeking government aid to handle farm residue before following the ban on burning of paddy straw, farmer unions' representatives collectively set fire to it in a 25-acre field at Shajju Bhatt village in Nabha to send across a message of defiance on Tuesday. This came even as the state agriculture department told field officers to identify farmers burning straw and debar them from getting any government subsidy.
So far, in the three days for which the Punjab Pollution Control Board (PPCB) has collected data, 250 cases of burning of straw, also called stubble, have been reported. The board has engaged Punjab Remote Sensing Centre to use satellites to pinpoint areas where the fields are witnessing fire. But, on the ground, unions have been telling farmers to burn the straw until the government doles out some funds per acre for expenses that go into managing it by other means.
"We are aware of the environmental issues, but have no option other than burning the straw unless the government gives us the technology and monetary help for better ways. The government can't put restrictions on farming that is already in distress," said Joginder Singh, state president of Bhartiya Kisan Union (Ekta-Ugrahan), adding, "Farmers do not want to defy the law, but they are being forced to do that."
However, PPCB chairman Kahan Singh Pannu termed the Nabha defiance as a "desperate bid by some farmers". He claimed that "most farmers have decided to follow the government instructions". In Amritsar, Gurdaspur and Patiala, many villages unitedly approached the PPCB and said they won't burnt the straw, he further claimed.
"As for the violations, we will act as per directions of the National Green Tribunal. No one, whosoever it may be, will be spared," he added. "We will not only impose fine but also act on directions of the state government to have a red entry marked in the land record."
What's the matter
Punjab annually produces nearly 20 million tonnes of paddy straw, and farmers burn this residue to next sow wheat. This leads to smog as far as Delhi-NCR, over which the NGT last year grilled the Punjab government and also banned the burning. The state had already banned the practice in 2013, but strictly enforced it only last year, after the NGT pulled up both Punjab and Haryana.
What farmers want
Punjab's farmers are seeking a bonus of Rs 300 per quintal for not burning paddy stubble, besides subsidy on machines such as paddy seeders and shredders. They say disposing of the straw in an environment-friendly manner would mean additional expenditure of Rs 6,000 per acre, asking the government to adequately compensate them.
What the govt says
The fund-starved state government has thrown the ball in the Centre's court, asking it to give compensation to farmers at the rate of Rs 100 per quintal for straw management. CM Capt Amarinder Singh met Union agriculture minister on Tuesday and reiterated the demand. Besides monitoring the burning through remote sensing, the pollution control board has told staff of different departments to keep a tab. Another decision is to make a red entry in the girdawari (land record) register of farmers indulging in the burning.
Close