Security breach at Wagah border as man rams SUV into Indian gate
Updated on Nov 16, 2015 10:21 PM IST
In a major security breach at the Indo-Pak joint check Post of the Attari Border, an NRI rammed a speeding SUV into the Indian Gate on zero line in a bid to cross over, on Monday, early morning.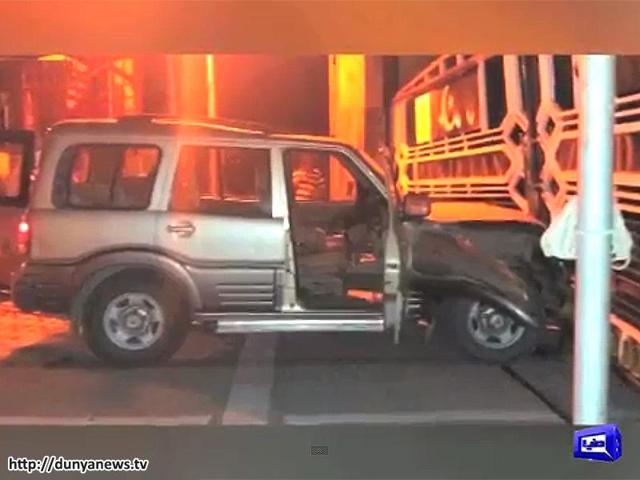 A man in a speeding SUV rammed through a customs gate and three security barriers at the Wagah-Attari border crossing with Pakistan on Monday, causing a major security breach in the heavily guarded zone.
The man identified as Surinder Singh, a 45-year-old Canadian national, was apprehended by Border Security Force personnel only after his Scorpio sports utility vehicle slammed into the gate on the Pakistani side and stalled.
Singh was reportedly undergoing psychiatric treatment. BSF personnel, who were taken by surprise when Singh drove through the barriers at about 120 kmph to 140 kmph, handed him over to police.
At 3.45am, Singh's SUV slammed through the customs gate on the outer periphery of the heavily guarded border crossing, then two barricades placed at intervals of 100 metres before the Swarn Jayanti Dwar, and then the gate on the Indian side of the "zero line" located 70 metres ahead.
Photos beamed by Pakistani news channels showed the SUV had come to rest against the gate on the Pakistani side. The vehicle was badly damaged and one of its fenders was ripped off.
The SUV was confiscated by Pakistani security personnel as it had entered Pakistani territory. It was later returned at the request of the BSF.
The incident raised serious questions about security arrangements in place at the border crossing as Singh managed to reach the zero line. Security forces later sealed the area.
Special superintendent of police (Amritsar rural) Jasdeep Singh said, "Surinder Singh is...a Canadian National. He hails from Mehatpur village near Nakodar.
"We are yet to find the exact reason why he did all this but he seems to be disturbed. Even during questioning, he kept singing songs."
The police officer said Singh was booked for attempted murder under section 307 of the Indian Penal Code and other provisions of the law for trying to cross the border without a valid visa or other documents.
Singh reportedly told investigators he wanted to pay obeisance at Nankana Sahib in Pakistan, the birthplace of Sikhism's founder Guru Nanak.
"Preliminary investigations reveal he was undergoing psychiatric treatment. He told us he wanted to pay obeisance at Nankana Sahib, but did not want to wait for the visa and other formalities and adopted the illegal way," a BSF official told PTI.
Singh had come to India on November 9 on a five-month visa.
The incident occurred days after the Pakistan Rangers offered sweets and exchanged greetings with Indian border guards at Wagah to mark the festival of Diwali. The customary exchange on festivals had been suspended for several months because of tensions between the two countries.
Personalise your news feed. Follow trending topics