Sumedh Singh Saini: Between rights and wrongs, top cop who walked his own line
Updated on Jul 01, 2018 10:55 AM IST
Some call him 'Dirty Harry', a moniker derived from the title of a Hollywood thriller about a cop who inspires fear in criminals while not always following the law as such.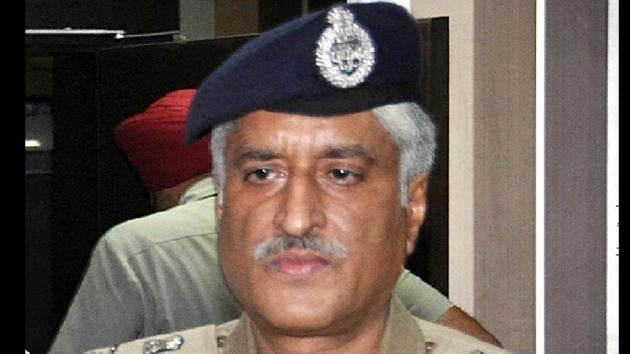 Sumedh Singh Saini, a daredevil top cop who retires on Saturday after serving Punjab Police for 36 years, has a long list of achievements as well as controversies that he collected and carried throughout his career.
The 1982-batch officer from the Indian Police Service (IPS) rose to the rank of director general of police and headed the state force for some years in a remarkable career, though he currently held the post of chairman of the Punjab Police Housing Corporation.
He was considered a blue-eyed boy of former DGP KPS Gill, who is credited with eliminating militancy in Punjab and has a mixed legacy too. Saini served as senior superintendent of police (SSP) at Batala, Ferozepur, Ludhiana, Bathinda, Rupnagar and Chandigarh, and was a leading face of the bullet-for-bullet policy of the police against Khalistani separatists.
Operations led by him eliminated big names of the armed movement, and he had full freedom to have his way when Gill was the Punjab DGP (1988-89, 1991-95).
Rights and wrongs
Some call him 'Dirty Harry', a moniker derived from the title of a Hollywood thriller about a cop who inspires fear in criminals while not always following the law as such. And Saini, thus, continues to be an enemy for pro-Khalistani forces, while activists too accuse him of violations of human rights in his ways.
In August 1991, when he was SSP of Chandigarh, he faced a bomb attack by Khalistan Liberation Force militants, but survived with injuries even as three of his security personnel were killed. After KPS Gill, Saini remained, and remains, the "biggest villain" for Sikh radicals. In 1997, when Saini was on a personal trip to London, a plot to kill him by Babbar Khalsa (Parmar faction) was foiled by the police there. Since then he has Z+ security .
Saini still faces a CBI case for allegedly kidnapping and eliminating a Ludhiana industrialist, his brother-in-law and his driver. The complaint said the industrialist, Vinod Kumar, had a business tiff with Saini's relatives in Ludhiana where he was SSP in 1994.
As SSP of Chandigarh, Saini hit the headlines when he allegedly assaulted a lieutenant colonel, and the issue snowballed into an army-versus-police controversy. The then CM Beant Singh and DGP KPS Gill had to intervene. As Bathinda SSP, Saini was accused of manhandling an executive engineer at a party at the house of the deputy commissioner.
Corruption and consequences
As head of the vigilance and anti-corruption bureau, Saini was accused of tapping phones of high court judges. In 2009, former Chief Justice of India (CJI) TS Thakur (since-retired), who was then a judge at the Punjab and Haryana high court, wrote to the then CJI that Saini had fabricated evidence of corruption against some judges.
Saini's role in investigation of cases of corruption has won him praise too, particularly in the 2002 case of a scam in the Punjab Public Service Commission (PPSC) which was then chaired by Ravi Sidhu. As IGP (intelligence), Saini laid the trap for Sidhu, and investigation even named some HC judges. Before (the current CM) Captain Amarinder Singh was sworn in as CM in 2002 (his previous term), Saini was considered one of his closest aides. But, apparently after the ambit of the PPSC scam probe widened, Saini was shifted out of the intelligence wing. Later, his equation with Amarinder went from bad to worse, so much so that when Amarinder faced corruption charges in Ludhiana City Centre and Amritsar Improvement Trust cases, Saini was head of the vigilance under the SAD-BJP government (2007-12).
In 2007, when Saini was vigilance chief, former Punjab DGP SS Virk was arrested on charges of disproportionate assets and misuse of official position. In 2017, the VB filed for cancellation of the case, saying that it didn't find any evidence against Virk.
Rise to the top, and then...
It was the souring equation of Saini with Amarinder that pushed him into the confidant circle of the Akalis, especially SAD president Sukhbir Singh Badal who remained deputy chief minister. When the Akalis won a second consecutive term in 2012, Saini was made the state police chief, bypassing four seniors. He became the youngest DGP in the state at the age of 54.
He led important operations, including against Pakistani terrorists who attacked the Dinanagar police station in March 2015. There, despite the Union government and the then CM Parkash Singh Badal's continuous push for army intervention, he stuck to his stand that the police will lead the operation. Saini is known to be much-admired by the force's rank and file.
However, the sacrilege incidents which led to outrage among the Sikh community in Punjab compelled the Badals to replace Saini with his batchmate and bete noire Suresh Arora in October 2015. Saini was posted as chairman of the police housing corporation, but did not attend office, preferring instead to function from home.
A chainsmoker, Saini has strong likes and dislikes, reflected in his "choice" of journalists to talk to, or of the officers he trusted. This, and much more, made him a polarising figure.
Personalise your news feed. Follow trending topics