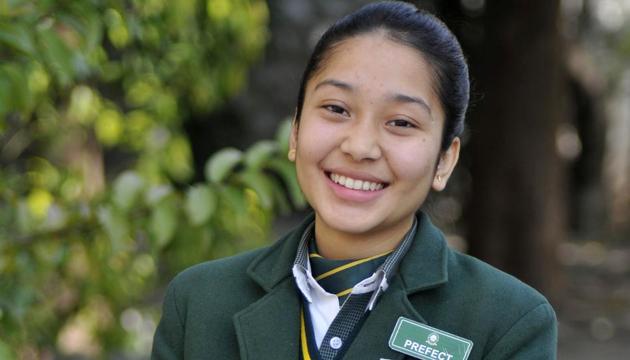 Turning 18 with HT: 'Want to serve humanity and earn well too'
Sumana Dahal, a Class 12 student of Satluj Public School, Panchkula, is fond of playing basketball, football and table tennis but she has her heart set on becoming a cardiologist
Hindustan Times, Chandigarh | By HT Correspondent
, Chandigarh
UPDATED ON FEB 26, 2018 02:10 PM IST
Sumana Dahal
Born: November 26, 2000
Badge of honour: Prefect and Kashmir House captain, Satluj Public School, Sector 4, Panchkula
ALL-ROUNDER: A medical aspirant from Nepal who loves India for its diversity and warmth, Sumana Dahal hopes to see the youth as a catalyst of change when it comes to respecting the law and ending social injustices and corruption .
What turning 18 means to me
It's an exciting phase. I'm progressing and growing mature as a person. My parents are becoming more liberal as I head for college. But freedom comes with responsibility.
What I want to be and why
I want to be a cardiologist. Being a doctor is the noblest profession. You get the opportunity to serve humanity and earn well too.
My idea of India
Unity in diversity defines India best. I come from Nepal and have found people here to be warmhearted and welcoming. There is togetherness.
What makes me happy
Listening to music and spending time with family and friends. I'm a fan of South Korean band BTS (Bangtan Boys) and Bollywood singer Arijit Singh. Music transcends language barriers.
What makes me angry
Social injustices and discrimination besides crimes against women.
Fear and fantasy
I feared public speaking. I felt I might not be accepted. But fears are meant to be conquered. So I pushed myself and became the captain who addresses the entire school at assemblies every other day.
As for the fantasy, I see myself as a successful person living in a luxurious villa with a fleet of cars, providing a great life to my parents and younger brother.
Am I happy where I am
Of course! My teachers, friends and family are supportive. I get nostalgic as I'll soon be leaving the protection of home and school. We all have to move on. I feel something bigger and better is waiting for me.
What money means to me
Money is important and I value it. I need money to sustain myself. Only if I'm self-sufficient will I be able to help others. But money is not the be all and end all of life.
What makes me proud of India
The cultural diversity. In Nepal, we don't have so much variety. I like the bond people share here.
What I can't live without
My family and music. My favourite is 'Blood, sweat and tears' from the the BTS band's 2016 album, Wings. It's all about the pressures and insecurities of youth and how you need to believe in yourself and follow your dreams. If you're passionate, you're going to work for it and achieve it.
What social media means to me
Everything has a positive and a negative side. Social media keeps me connected, updated and helps me unwind. But if misused, it can be addictive. I use social media for daily motivation, news, memes, football and basketball updates. I'm a state-level basketball player and like table tennis too. I'm a fan of US basketball player LeBron James and football forward Cristiano Ronaldo. Sport improves reflexes so if you're good at sport you're likely to be good at academics too.
The change I'd like to see in my city
Panchkula needs to be cleaner. Commuters need to abide by traffic rules such as wearing seat belts. Often they wear their seat belts on entering Chandigarh. It's for their own safety not for showing the traffic police.
What religion means to me
For me, religion is humanity. All religions are a manifestation of humanity. Be true to God, be true to your actions.
My role model and why
No one is perfect so I don't have a specific role model. I imbibe good qualities from different people. I look up to my parents for the hard work they do. My father is a hotel manager in Chandigarh and my mother a homemaker. They have worked so hard to give my brother and me a life they have wanted. I've heard of Dr Bhola Rizal, the cardiologist who treated my grandmother in Kathmandu. I want to be humble and humane like him. When I face a setback, I draw strength from the biography of former US president Abraham Lincoln.
Change I want to see in India
A corruption-free India. Start with imparting moral values to children.
(As told to Yojana Yadav)
Close