Woman's death in go-kart mishap: Mourners throng gurdwara where she prayed daily in Bathinda
Updated on Feb 16, 2018 01:55 PM IST
"Kinni sohni jodi si, nazar hi lagg' gi," (such a good looking couple it was, the evil eye stuck them), said a woman's sobbing voice, who was among a few hundred mourners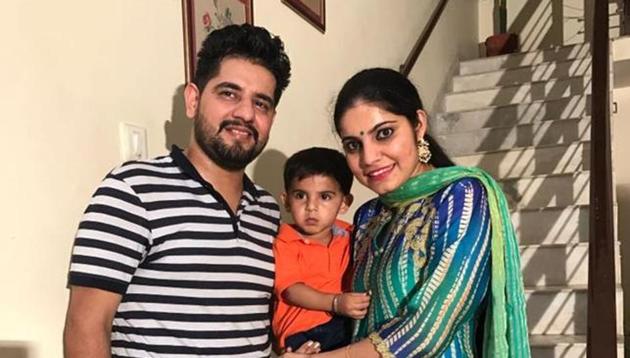 The body of 28-year-old, Puneet Kaur was on Thursday consigned to flames in Rampura village, a day after she died on a go-cart joyride near Chandigarh, and three days ahead of the celebrations scheduled for the 'lohri' ritual of her one-and-half year old son.
"Kinni sohni jodi si, nazar hi lagg' gi," (such a good looking couple it was, the evil eye stuck them), said a woman's sobbing voice, who was among a few hundred mourners standing around the pyre of Puneet.
As Puneet's husband Amardeep Singh held the child, Ranbir, in his lap at home after cremation and the kin tried to cheer him up. The child somehow noticed the sobbing faces, perhaps looking for his mother among the women.
Amardeep was speechless. He just shook the folded hands or reciprocated to the hugs, with the child in his lap.
The relatives and friends thronged the village Gurdwara for 'ardas' (prayers) after the cremation, where the priest remembered the departed soul as 'a happy woman who visited Gurdwara every evening, paying obeisance, laughed and played with her child.'
"She was my niece, a brilliant and intelligent post-graduate, and I had found her the bridegroom (Amardeep)," said the late Puneet's maternal uncle and a senior police officer Narinderpal Singh.
He further said, "The cards were in print and a banquet hall booked for the 'lohri' celebration, which was initially postponed in January, following the demise of Puneet's mother." The house of Puneet and Amardeep, who lived as a joint family, was palatial, with SUVs parked outside.
The departed soul was consigned to flames in the vast agriculture fields, and not at a cremation ground, as the family wanted to have her cemetery on their own land that sprawled over several acres.
THE INCIDENT
The family was on a vacation, uphill near Chandigarh, when the fate encountered Puneet's smiling face as her hair got caught in a wheel of the go-kart, tearing her scalp off the head at an amusement park adjoining Yadavindra Gardens in Pinjore on Wednesday afternoon.