Budget outlook: Realty market stays optimistic
Published on Jan 30, 2017 01:11 PM IST
Stakeholders and buyers express their opinion about the realty scenario in the country post Feb 1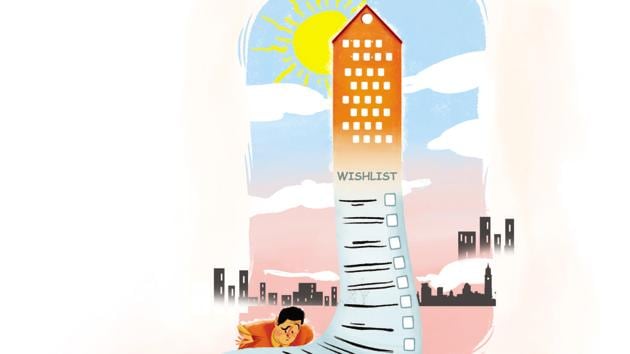 Seldom has the middle class waited for the Union Budget so eagerly. But February 1 is likely to be the day that offers clarity to those whose hopes, dreams, fortunes and careers are tied to the real estate market. Will buying a home in Mumbai finally become possible? Has demonetisation created a clearer system within which builders, brokers and buyers can operate? Can our cities hope for a breathing room?
Pratik Kulkarni, 28, a software engineer, will be glued to the news. He's planning to buy a house in the city this year. "I am hopeful that the budget will make houses affordable," he says. His wish-list is longer. "I also hope the budget does away with the multiple taxes involved in the purchase of residential property."
India's young urban professionals wanting to buy apartments are particularly looking for "clarity on various government schemes such as Pradhan Mantri Awas Yojana", says Anuj Puri, chairman and country head of realty consultancy JLL India. This is because they do not belong to the EWS (Economically Weaker Section) or the LIG (Low Income Group) segments, which have been the focus of policies in recent years.
A particular peeve: buyers are required to pay service tax and value-added tax on top of stamp duty and registration charges for an already expensive home. "Goods and Service Tax should be introduced in place of these taxes, so the overall impact of indirect taxes reduces," says Munish Doshi, managing director of Acme Group, a real estate development company.
The three major areas of concern are affordability, transparency and reduced home loan rates.
Read: Budget 2017: Here's what Arun Jaitley can do to boost real estate
ON THE WISHLIST
The real estate sector is hoping for transparency in transactions, says Kishore Bathija, managing director of real estate development at K Raheja Corp. Three decisions: the setting up of a Real Estate Regulatory Authority (RERA), a new land acquisition policy and the Benami Transactions Bill will play a key role in this.
"RERA will be a government body that can be approached for redressal of grievances against any builder," he says. "A land acquisition policy will smoothen the process by which the union or a state government acquires private land for industrialisation or development of infrastructure. The Benami Transactions Bill will prohibit one person from buying property in someone else's name."
Himanshu Kanakia, managing director, Kanakia Spaces ,reckons that this year's real estate focus will be on affordable housing to boost sales."Reducing the taxes for Real Estate Investment Trusts (REITs) will also help make houses affordable," he says. "Those staying in rental accommodation will benefit from it largely as they can then consider buying homes."
More Income tax benefits for first-time home buyers are also expected. "In the last budget, first-time home buyers were given additional Rs 50,000 tax exemption for a house worth up to Rs 50 lakh with a loan of up to Rs 35 lakh," says Puri, JLL.The announcement mostly benefited users in tier-II, III cities but not as many in the bigger metros, where house prices are mostly above Rs 50 lakh. "The budget should bring similar tax exemption for first timers in metros too," he adds.
The new Goods and Service Tax (GST) is also something on which the sector wants more clarity. "Even as the GST rates have been finalised and the slabs are fixed at 5, 12, 18 and 28 per cent, the real estate sector awaits to know which tax rate will be applied to the industry," says Surendra Hiranandani, chairman and managing director, House of Hiranandani, a developer group. "A 12 per cent slab is preferred by the sector as it will make houses cheaper for users."
There are, however, still many problems with the land for realestate development. There has not been any intervention from the government in land development costs which continue to remain high, says Anshul Jain, managing director, real estate consultancy Cushman and Wakefield India. "If the government can work towards it, we will see more relevant housing units being built quickly and successfully. It will help to minimise the risks for developers who can then also focus on catering to the lower income households."
Read: Budget 2017: Builders want infrastructure status for real estate sector
Several pending civil and some criminal cases with the judiciary involve real estate, says Jain. "This has resulted in locking up a large chunk of much needed real estate out of markets and further created scarcity of homes resulting in further increasing realty prices," he says. "The government needs to think of adding more resources and mechanisms to deal with real estate related litigation and take care of this backlog." Those who have bought houses in the new suburbs also have expectations from the upcoming budget, they want the connectivity promise to be kept. "The government needs to boost connectivity to the Mumbai Metropolitan Region (MMR) and the suburbs," says Dhara Punjabi, 27, a photographer who bought a low-budget house in Navi Mumbai and has a harrowing time commuting to work in Fort.