Buying a house? You might want to rope in a private home inspector
Hindustan Times |
Vanessa Viegas
May 13, 2019 01:01 PM IST
A bunch of new companies are offering to check for cracks, leaks, hidden flaws before you commit to a real-estate purchase.
Buying a home has always been the final frontier in financial investment. But how does one ensure that the home of one's dreams isn't an abode of structural nightmares?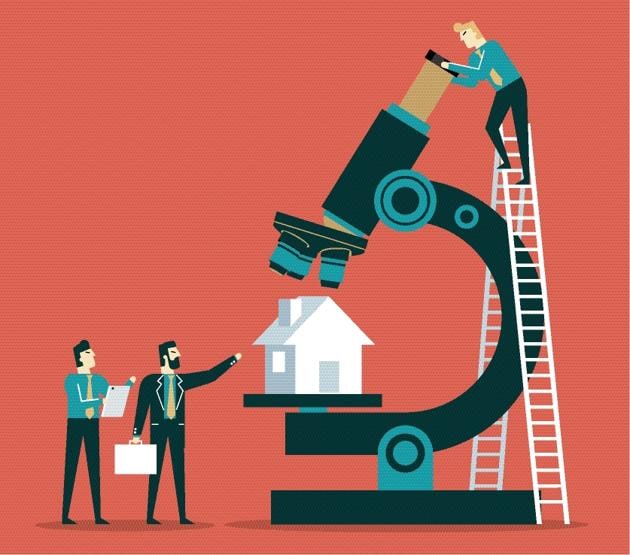 Most people get to know of leaking walls and creaking ceilings only months after they've moved in. Often, the cost of repairs can run from tens of thousands to a few lakhs, and goes up with time depending on the quality of construction. More importantly, the safety of the home occupiers could be compromised.
So far, all you had to go on was the reputation of the builder and architect, and surface observation. Now, you can actually hire a private home inspection company to assess the state of a flat you plan to buy, where under-construction, newly built or previously owned.
Sensing a huge gap in the real-estate segment, a handful of private home inspection companies have come up over the past three years. These include HomeInspektor and Nemmadi in Bengaluru and Chennai, MACJ in Kolkata and Mumbai,Meazurements in Mumbai, e-Ghar in Delhi-NCR markets and CheckMyProp in Mumbai and Pune.
"The timing could be to do with the noise around the RERA legislation, a bill that wanted to safeguard the rights of the home buyer, which started becoming talked about more and more," says Sudhindra Naib, CEO of HomeInspektor, "We opened in 2016 because of a realisation that such services are prevalent in most developed countries, but were absent and much-needed in India."
These inspectors typically use infrared cameras, moisture meters, voltage indicators and ground fault circuit interrupter testers, among other tools, to check aspects such as sturdiness of the roof, thickness of walls, internal leaks, especially in bathrooms and kitchens, electrical earthing and even things such as water flow and faucet pressure that are crucial in areas of intermittent water supply.
"These tools allow for a fairly non-invasive assessment of the condition of your home, as required by our standard operating procedure," says Satish Chandra, founder of Check My Prop, set up in 2017. "So you wouldn't have to drill a hole or even turn a screw for that matter."
On January 1, 2018, this cluster of companies also got together to form the Home Inspection Association of India (HIA) to work towards improving the visibility of home inspectors and to prescribe operating standards for home inspectors across the country.
GETTING THE TIME RIGHT
While there is no wrong time to get a home inspection done, most experts say it is highly recommended soon after booking a property, whether it is under-construction or pre-owned. "A whole lot of checks can be performed at different stages at this point that might later on be hidden once the construction is completed," says Naib.
As per RERA, the first five years after possession of the home is known as the defect liability period, "The builder is liable to rectify any defects discovered during the period, free of cost," says Uday Prakash, founder of Nemmadi, which was set-up in 2016. "So the next best time to get a home inspected would be soon after taking possession of the property."
It is also advisable to get an inspection done before putting up a property for sale or rent. Home inspection before sale will give you the status of the property and in case it requires some repairs/maintenance work that will increase the value of the property, it can make a big difference to the transaction value.
"Another good opportunity for home inspection is before taking up any renovation activity in the home. Home inspection cannot only avoid costly damages but also help you prioritise the activities based on the findings in the home inspection," says Chandra.
HOW IT WORKS
A home inspection will typically take no longer than four hours to complete, depending on the size of your home. "We usually start by preparing a snag list with recommendation as to which parts of the home should be covered. We also have other services like calculating the area measurement of the flat using laser and 3D technology, identifying areas that must not be drilled and checking for moisture by scanning walls using thermal imaging cameras," says Antriksh Tawar, co-founder of e-Ghar.
The home inspection reports can run into 100 pages, detailing even the smallest crack in the tiles, adds Jaishankar AL, 48, a resident of Bengaluru who opted for the services of HomeInspektor in 2017, before taking possession of his brand-new flat.
"For a 3514 sq ft apartment, it took four hours and cost me about ₹13,000," says Jaishankar. "I got a few electrical aspects and the flooring of two of the four bedrooms redone by the builder, well in time, as a result of the findings of the private survey."
Bhaskaran, 45, another client of HomeInspektor, got an inspection done before he purchased a flat in a year-old building last year. "Though not many defects were revealed, it gave me a fair idea of what might need fixing in the near future. The inspection was done within two hours and the reports were generated quickly, all for ₹10,000 for a 1,900-sq-ft flat. More than anything, it helped me make an informed purchase."
As Tawar puts it: "What you see in a sample flat at the time of booking and what you get at the time of possession could be vastly different things, simply because sample flats are designed differently, and because wherever people and not machines are involved, inconsistency and errors can occur."