Commercial real-estate is on the up and up, with new hotspots emerging
Despite realty overall being sluggish in the last two years, the office segment has continued to grow.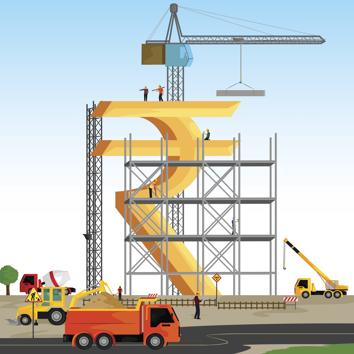 Published on Mar 09, 2019 09:46 PM IST
A growing workforce, slowing residential market, and decentralisation of commercial space in the prime metros, are among the factors that have contributed to steady growth in the office space segment over the past decade. Despite realty overall being sluggish in the last two years, the office segment has continued to grow. Developers and analysts see the growth continuing, with newer pockets being added to the list.
"We are witnessing robust demand for commercial office space, with healthy leasing momentum to continue for the next three years. We expect the flexible workplace segment to witness traction in the coming years, with operators competing other to expand across several cities," says Ritesh Sachdev, senior executive director for occupier services, at realty consultancy Colliers International India.
Advisory Knight Frank says the Indian office space market has seen a 12% growth in demand in 2018, and a 13% growth in supply, the highest since 2010. One of the factors that has added to the growth is the slump in the residential segments, says Ashwin Bangera, assistant vice-president for research at Knight Frank India.
"High demand and growing margins lured the bulk of development interest into residential real-estate, until the early part of this decade. Meanwhile, commercial occupier demand continued to grow steadily, there was a virtual standstill in office space supply. As a result, vacancy levels dropped dramatically and rentals began to rise. The slump in the residential market, especially in the last two years, re-stoked development interest in office space so that it is now in a positive cycle," he says.
THE BIG PICTURE
As the economy has continued to grow rapidly (if not as rapidly as in the last decade), office spaces in the right locations and the right kinds of projects found that they could attract quality corporate tenants and therefore yield very good returns.
The average rental yield (annual income as a percentage of the property's value) of a good commercial property falls in the range of 6% to 10%, whereas the rental yield of a residential property is in the range of 1.5% to 3.5% now, says Anuj Puri, chairman of realty consultancy Anarock.
"Office properties in well-located Grade-A buildings, info-tech parks and even in logistics centres are generating the kind of steady and dependable returns that investors previously sought and found in the residential asset class," Puri adds.
The top three sectors contributing to gross leasing, according to Colliers International India were IT-ITeS (with a share of 43% of the total leasing volumes nationwide), flexible workplaces (with a 14% share) and the banking, finance and insurance sector (at 12% of total leasing volume).
"Growing demand has led to the emergence of new business hubs in what were earlier peripheral locations like Thane and Navi Mumbai," says Niranjan Hiranandani, CMD of the Hiranandani Group and president of the National Real Estate Development Council (NAREDCO).
The Group, best known for its residential projects, has increased its investment in commercial real-estate by nearly 50% in two years, he adds. These include deals with companies like IT company TCS and pharma company Bayer. The US-based co-working space company WeWork, for instance, occupies a 12-storey building in a Hiranandani township in Thane.
While all cities have seen rentals increase due to a dearth of good quality supply, Bengaluru, Pune and Hyderabad have seen consistently higher rental growth than other cities over the past four years, according to Knight Frank.
Till 2021, projections by Colliers International suggest that the annual average for fresh demand for office space across India will be 46 million sq ft. Overall India supply will be at 156 million sq ft by 2021. Cities set to emerge as new high-growth markets, they say, will include Hyderabad and Bengaluru, as well as Kochi, Chandigarh, Indore, Coimbatore and Nagpur.
Close Story