Unstoppable Axelsen marches into India Open final
Jan 21, 2023 10:45 PM IST
The world No. 1 produced an attacking masterclass against Christie
Viktor Axelsen blazed to a fifth India Open final with a stunning 21-6, 21-12 mauling of Jonatan Christie here on Saturday. The world No 1 - winner of the 2017 and 2019 editions - displayed brute power to end the contest in 38 minutes and set up the summit clash with Thailand's Kunlavut Vitidsarn.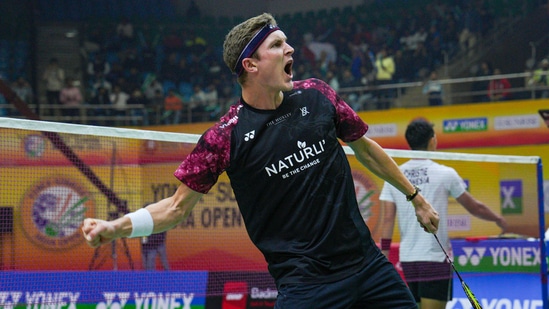 Axelsen used his towering frame to unfurl a series of searing smashes on Christie and open an 11-4 lead at the first break before wrapping up the opening game in 16 minutes. The second game was no different with Axelsen pounding Christie on both sides of the court.
The world No. 4 stepped to the midcourt to meet Axelsen's shots at a comfortable height, but the Dane responded with powerful body smashes. One such smash, fired at 383 kmph, hit Christie on his chest before he could bring his racquet down.
Axelsen galloped to match point when another smash beat Christie on his backhand and took the match when Christie placed a return wide.
"I don't think I could have done anything different tonight. He (Axelsen) is playing at a different level. On current form, he is the toughest opponent I have faced," said Christie.
In the other semi-final, world No. 8 Vitidsarn defeated No. 3 Anthony Ginting 27-25, 21-15 in a little under one hour.
Comeback win for An-Se
In the women's draw, world No. 4 An Se-young beat her nemesis He Bingjiao 11-21, 21-16, 21-16 to set up a repeat of last week's Malaysia Open final with world No. 1 Akane Yamaguchi.
China's Bingjiao had a 4-0 head-to-head advantage coming into the match and looked in fine fettle, her down-the-line smashes tormenting An Se-young early.
The 20-year-old Korean came back well in the next game, ramping up her hand speed to flatten her returns and minimising the room for Bingjiao to smash. "I realised my errors after the first game and changed my plans accordingly. I increased the pace of the rallies in the next game to work my way out," said An Se.
The third game saw Bingjiao finding her range early again with some smashes. There was also a delectable backhand flick from the net after she had drawn An Se forward that took her to a 6-2 advantage which soon became 9-3 as the Korean's errors multiplied. A run of four straight points from An Se brought the gap down to two points before Bingjiao opened a 12-9 lead.
An Se then went on a five-point spree to nose ahead (14-12) and though Bingjiao won the next two points, An Se never trailed again.
Yamaguchi held off a spirited challenge from last edition's finalist Supanida Katethong to wrap up a 21-17, 21-16 win in 39 minutes. The Japanese will be gunning for a third straight title, having won Malaysia Open last week and World Tour Finals last month.