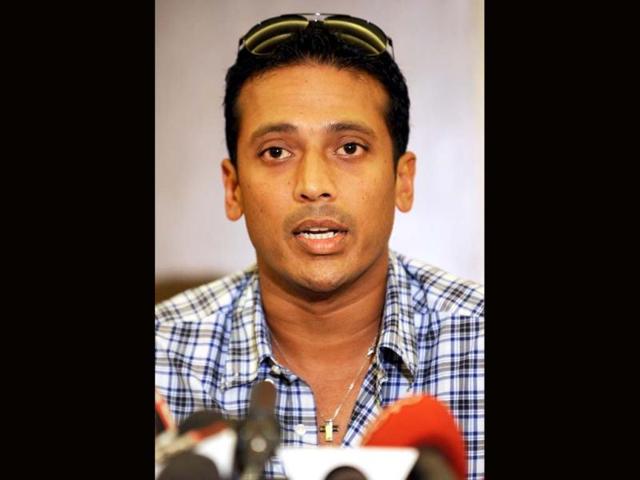 Case of two missing clauses
The tennis federation president Anil Khanna must not be too pleased with himself right now. After all, it was a simple matter of ignoring Mahesh Bhupathi and Rohan Bopanna whenever it came to selecting a team that would represent the country. Sukhwant Basra reports. Bhupathi's accusations | Khanna's response | High Court's stay order
Hindustan Times | By Sukhwant Basra
UPDATED ON SEP 23, 2012 11:34 AM IST
The tennis federation president Anil Khanna must not be too pleased with himself right now. After all, it was a simple matter of ignoring Mahesh Bhupathi and Rohan Bopanna whenever it came to selecting a team that would represent the country.


Instead, he chose to make a noise about a two-year suspension which has now seen Mahesh Bhupathi throw a kick serve his way that has bounded over his head.
Bhupathi has retaliated with a series of allegations on TV channel Times Now. While Khanna, given his adroitness in the past, may be able to wiggle out of being pinned down for all, there is one which he will have a hard time justifying.
Why would a sports body remove two clauses from its constitution that specifically disqualified people with a commercial interest in tennis from being office bearers?
These read that anyone who "is engaged in the manufacture or sale of tennis requisites" and "is in full or part-time employment in the tennis department of a firm supplying sports goods" would be ineligible to hold office.
Disappearing game
However, both disappeared from the document subsequent to the 2005 extra-ordinary general meeting of the body held on April 23, 2005. Present selection committee chairman Anil Dhupar proposed that these be expunged. Further, Khanna will have a tough time in justifying this clause under AITA's aims and objectives: "In furtherance of its objects, AITA may enter into an agreement with any firm, organisation or concern in which the office bearers and the members of executive committee may or may not be financially interested as Director or partner".
Then, Bhupathi is not wrong when he states that the land on which the National Tennis Academy (NTA) came up (on the Gurgaon-Pataudi road) belonged to the Khannas. Since then, anyway, a huge textile factory has come up at the gate of the premises which dwarfs the tennis facility. To begin with, it made no sense to have a so-called academy so far removed from the city. It never really took off and players constantly complained about its lack of connectivity. Khanna must explain just why funds were sunk into this particular place.
Khanna is on record to state that his son is involved with Rebound Ace, the company that got the contract to lay the courts for the Commonwealth Games. There is nothing new or 'exclusive' about that bit of information. However, what is new is that now the son's name has disappeared from the website and the office address is no longer that of a Delhi property that has been in the family for some time. The same son was slated to be involved in the Indian Tennis League which has refused to happen. It is now tentatively scheduled for end-2013. Perhaps Khanna will also go on record about the factory - as to just who owns it and why did it come up only after the NTA was established?
Players wary
Players need be wary because certain finances have been disbursed to them in a manner that allows them to evade income tax. That has been the hold that Khanna has had on them for a long time. That is also a major reason why many who do not get along with him, still keep their silence.
Possibly, Bhupathi no longer gives a damn. And that inquiry which he is asking for - if it is conducted by a government investigative agency - will cause serious worry to the office bearers who have been holding on to their chairs for a long time, safe in the knowledge that no player will take them on or say it the way it is.
Bhupathi's accusations | Khanna's response | High Court's stay order
Close