Mumbai City FC first Indian team to win in AFC Champions League
Published on Apr 12, 2022 08:01 AM IST
The 2020-21 Indian Super League champions rallied to beat Iraq Air Force Club 2-1 with Rahul Bheke scoring the winning goal.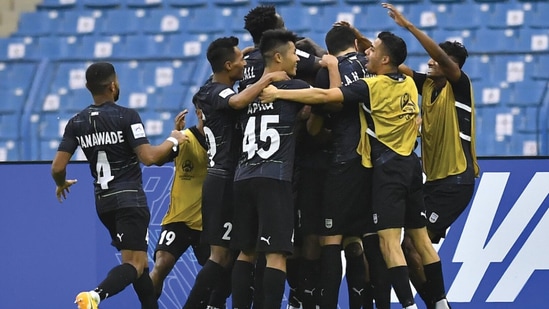 Diving into the unknown, Mumbai City FC had a single goal from their AFC Champions League (ACL) expedition - get a W; didn't matter if it took till the sixth and final group game. Didn't have to wait that long.
In just their second match in Asia's premier club competition, Mumbai City delivered a first for Indian football. From a goal down, the 2020-21 Indian Super League (ISL) champions beat Iraq's Air Force Club (Al-Quwa Al-Jawiya) 2-1 in Group B at Riyadh's King Fahd Stadium on Monday. It was the first win for an Indian club in the tournament after FC Goa marked an Indian club's debut in ACL last year with three draws and losses each.
Mumbai City's journey began with a 3-0 defeat to Al-Shabab FC on Friday, which underlined the difference in level between the teams. Another loss loomed when substitute Hammadi Ahmad, after the Iraq giants missed a swamp of chances in the goalless first half, put them ahead in the 59th minute.
Eleven minutes on, Mumbai City got an unlikely opening courtesy a loose tackle inside the box by Ali Kadhim on Diego Mauricio, who slotted the penalty in the middle. Mumbai City now had a spring in their step. Rahul Bheke then took over. The Mumbaikar won it for his city club with a sublime header to the far bottom off an Ahmed Jahouh cross from a 75th minute corner.
After hanging on for their dear lives in the final 20 minutes, Jahouh sank to his knees at the final whistle while a few of his teammates embraced each other. Head coach Des Buckingham wore a smile.
"A range of emotions," Buckingham said. "This is a huge result, not just for our club but a historical one for Indian football. We knew coming into this tournament how tough it was going to be. The league we come from is only seven seasons old, and we're competing against very well resourced and experienced teams at this level.
"A lot of the people in there are very proud of what they have done for the club, for the country and for themselves and their families," added the Englishman.
A lot of players rose to the challenge too. Captain Mourtada Fall was ever so solid at the back, diving to clear balls in dangerous positions and winning one-on-one challenges inside the box, playing a key role to keep Air Force's goal count to nil in the first half. Goalkeeper Phurba Lachenpa continued doing a good job while being kept busy like in the first game. Missing that game was Brazilian Mauricio, who provided the cutting edge in the final third, which Buckingham felt was lacking against Al-Shabab with top striker Igor Angulo absent due to injury.
What about Bheke and his knack of coming up with crucial winners. Remember his 117th-minute looping header in the 2018-19 ISL final that Bengaluru FC won 1-0 against FC Goa?
"When I go for corners or set-pieces, that's the only chance for me to score. So, I make sure I get that goal," said Bheke, who became the first Indian to score in the competition, weeks after scoring against Bahrain in an international friendly. "The coach told us before the game that we have to create that history, and I'm happy we did that. It's a proud moment for me, my family, my team and my city. I think everyone will be happy there too."
It wasn't a clinical victory by any means against a club that beat Bengaluru FC in the 2016 AFC Cup final. A couple of silly back-passes in the opening 10 minutes that could have proved costly betrayed Mumbai City's nerves. The numbers, like in their opener, were lopsided. Air Force Club had 19 shots on goal (6 on target) to Mumbai's 5 (2). Buckingham though was confident that once the "players operate at the level they should" the tide could turn no matter the deluge from the other side. "Keep going. Believe in what we do," Buckingham told his players at half-time. "My message was to continue doing what we had set out to do. If we do that, I've said it all along the ISL season and even here, we'll come out with more such results."
Now that the primary goal has been achieved, the coach has redefined the objectives. Mumbai City have four more group games - they face Al Jazira next on Thursday - to script other firsts.
"This (getting the win) was something as staff and playing group we've been striving to achieve," Buckingham said. "But it's important now that we refocus. This game should show the players that they are good enough to compete at this level. And we have four more games to have a chance of creating further history."
Topics
Personalise your news feed. Follow trending topics