India, England in race for the top spot
Jan 18, 2023 11:03 PM IST
On the final day of the group matches for Pool D, India may have to up their game against Wales
A cover drive followed by what would have been a fine square cut. The only difference was the shots came on the blue turf of the Kalinga Stadium in Bhubaneswar and not a cricket pitch and Graham Reid had a hockey stick in his hand and not a bat.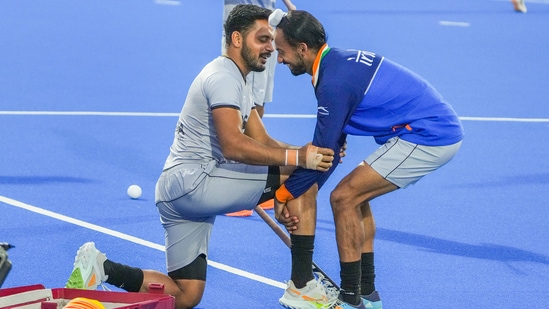 Just a few metres away, Surender Kumar was pulled down onto the turf by a team-mate. There were laughs all around.
India looked like a confident unit in practice ahead of their final Pool D game against debutants and world No 14 Wales, the second lowest-ranked team at the World Cup. But Thursday is when numbers will come into play with teams working on permutations and combinations.
After a 2-0 win against Spain in the opener and an entertaining but goalless draw against England, the hosts sit in second place in the group behind England – behind on goal difference (3). Spain are third with 3 points while Wales are last with 0.
With only one team qualifying directly for the quarter-finals – the second and third-placed teams go to crossovers – the top 3 will look to win Thursday's matches as England face Spain in an all-European clash. The Harmanpreet Singh-led outfit will have the advantage of playing last.
If Spain win then the hosts need to just beat Wales and not worry about the goal difference. If England beat Spain, then India will know the goal difference they need to make the last eight. If it is a draw, the same rules apply again. But will having a target be an advantage or could it turn into a disadvantage with the target adding pressure?
"It's probably an advantage knowing what your objective is. I don't think we will be getting transfixed with it. It's also dangerous. We just need to play our normal game, stay patient, move the ball around, do all the stuff that gives you a good result. If you're continuously worrying about it, you become a bit anxious. The message will be to keep it simple. Wales is a very good team. They play like England. They will hurt you if you give them oxygen," says India chief coach Reid.
This will also be India's first match at the Kalinga Stadium having played the previous two contests at Rourkela's new 21,800-seater Birsa Munda Hockey Stadium. Though India is used to the turf here – having played so many internationals over the years – it is the first time a men's hockey World Cup is being held at two different venues, bringing in aspects of change in conditions, be it climate or turf.
"We've had a four-day break. If you'd asked me the question and we only had a 1–2-day break that would almost have been like Hockey India League where you have a play day and then a travel day. So, it's okay," added the Australian.
Though Reid remained tight-lipped about Hardik Singh's condition, it has been reliably learnt that the playmaker will skip the Wales game in order to get completely fit for the knockouts. Hardik was the best player for India in the first two matches, also scoring a sensational goal against Spain in the opener. He suffered a hamstring injury, likely a sprain, against England when he was substituted and never returned on the pitch.
"The prognosis did not look good for Hardik at that point. The MRI scan was much better than we had hoped. It gives us a bit of hope for him to be playing again in this tournament," said Reid.