How can India become an athletics powerhouse?
India had just one distance runner qualify for the Tokyo Olympics. Athletes blame their federation for a lack of performance. Coaches blame athletes and the federation. Officials blame athletes and coaches. The truth is somewhere in the middle.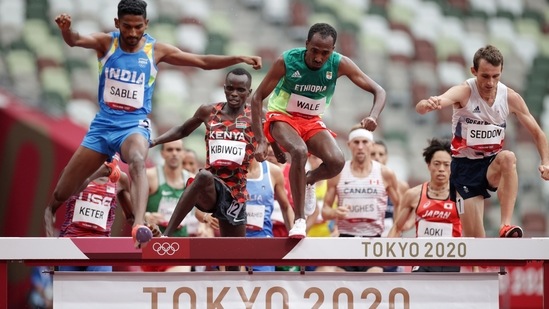 Published on Aug 19, 2021 09:08 PM IST
As a coach and runner I thoroughly enjoyed watching the athletics during the Tokyo Olympics. We were treated to breathtaking action and some surprising winners.
One athlete whose performances did not surprise me is Sifan Hassan—winner of the gold medal in the 5000m and 10,000m as well as a bronze medal in the 1500m—the most outstanding performance by any distance runner in perhaps the last half century at the Olympics.
Sifan is a very talented Dutch athlete, born in Ethiopia. But there's lot of talent out there and none of them has done what Sifan just did.
Yet, I was not surprised because I know the fire that burns inside Sifan. Every elite athlete has that fire, which drives them to do what they do every day. I had that fire myself for more than 20 years and it is what made me run a marathon in 2 hours 12 minutes. It's a combination of will power, a strong self-belief, a desire to improve every day and the willingness to do what it takes to become the best version of yourself. I have trained with and lived among world class athletes for decades (I live in Iten, Kenya, the running capital of the world) and can say that Sifan's fire is bigger than that of any athlete I have ever met.
Sifan and I first met during the European Championships in 2014. She was a young and upcoming runner and I was at the end of my career. She won silver in the 5000m and I have never seen an athlete so upset that she did not win gold. It was impossible to talk with her. A few days later she won gold in her next event, the 1500m.
Several months ago I met Sifan again. She and her coach Tim Rowberry came to Kenya and stayed at my guesthouse for some weeks. I heard of her astounding plan to run the 1500, 5000 and 10,000 at Tokyo. It became clear to me that Sifan's fire had only grown stronger.
****
It also made me think of my time working with runners in India. Since I started coaching young Indian runners in 2015, I'm often asked why a country with 1.3 billion people is not an athletic powerhouse. I have thought about this for five years, spoken with many coaches and athletes and compared my experiences in India with those in Kenya and The Netherlands. Let me share with you my thoughts.
When we talk about distance running, many Indians insist that East African athletes win all the medals. Indians, they claim, will never have a chance competing against these natural born talents. They do have a bit of a point. In Tokyo, all the 18 medals in the long distance events (5000m, 10,000m and marathon, men and women) were won by athletes who were born in East Africa – although some of them are now living in and representing another country.
But that doesn't mean that other countries give up on being competitive—India did not even have a single runner qualify for any of these events, where runners from more than 40 different countries participated.
Also, in the middle distance events (800m, 1500m and steeplechase) East African born runners won just 10 of the 18 medals, while Great Britain won three medals too. Besides that, until 2019 the women's world record in the marathon was in the hands of Paula Radcliffe from Great Britain. If the Brits can win medals on the global stage and break world records, there is no reason why Indians can't.
Here's why they don't.
During my five years as a coach in India I was often asked when India would win an Olympic gold medal in a running event. My answer must have disappointed many: "Let's stop thinking about winning gold. First India needs to get a bigger talent pool".
India is miles behind countries such as USA and Japan when it comes to the number of sub-elite level athletes. For example, in 2019 a total of 28 Indian men ran the 5000m in a time faster than 14.45m, which is about two minutes slower than the world record, while an astonishing 707 Americans and 812 Japanese did the same. How do we expect to compete for a gold medal when other countries have almost thirty times as many sub-elite runners? Top talents generally don't appear out of thin air.
The real issue is not that India is not the athletic powerhouse that it could be, but that India is not a powerhouse in any sport apart from cricket. This is due to a combination of factors, but in my view the most important reason comes down to sporting culture and mentality.
I spoke with many Indian athletes and coaches in different sports, as well as with officials and officers from Sports Authority of India (SAI) and the Athletics Federation of India (AFI). Athletes tend to blame their federation for a lack of performance. The coaches blame both the athletes and the federation. The officials blame the athletes and coaches. The truth is somewhere in the middle.
*****
The first thing I noticed when I came to India was that the runners did almost all of their sessions on the track. When I asked the coaches why, they told me: if we allow them to run on roads or trails, they might hide somewhere instead of doing their training. This is unheard of in the world of top sport. You expect athletes to have that fire burning inside them. If they are lazy with their training, they will not perform and they pay for it by losing their spot in the team. Athletes who don't have that fire in them, will never reach the top in the first place. If we have to force them to train hard, we are just wasting government money.
On the other hand, it was equally surprising to me just how much workload some of these athletes routinely endured. For a high level distance runner, it's normal to run 150 km per week, but 80-90% of that mileage is easy and only 10-20% is hard, generally two to three hard sessions per week. The Indian runners I met had training programmes with hard sessions every day, regimens that would physically and mentally burn-out even the biggest talents. Those Indian kids trained like that at the age of 18! If I had been given a programme like that as a young runner, I hope I would have had the courage to hide in the bush sometimes and thereby save my own running career.
There is a belief among some coaches and among most of officials, that all athletes, even those winning national championships, are lazy and need a hard hand. One thing I know about psychology is that the best way to get unmotivated employees, is to check every little thing they do. If you don't trust your employees and you're constantly on top of them, and they will definitely show you their laziest side. It's a vicious cycle. On the other hand, if you trust your people, you will know how to motivate them. You will show them direction but give them autonomy. You want them to own their process.
My athletes Murli Gavit and Abhishek Pal qualified for the Asian Championships 2019. Our plan for their last four weeks of training was to focus on speed by training at sea-level, after they had laid down a great endurance base at high altitude in Kenya. Unfortunately, they were not able to execute our plan. The federation told them to travel to Ooty (high altitude), where they stayed for two weeks after their stint in Kenya. Then they had to travel to Patiala to do a time trial in the heat, a few days before travelling to Doha. A bad performance could mean that they would not be sent to Doha. Murli managed to do well despite the challenges (he eventually won a bronze). Abhishek got sick.
The federation could not trust that those two top athletes and their coach knew what they were doing. Instead, they had to mess up our well laid out plans. This is not an exception. It's the rule. Indian athletes (in most sports) see their federation as an organisation that is against them.
I mentioned that the truth is in the middle. This is because the perception of the coaches and officials is partly true. Indeed, many Indian athletes are not interested in reaching the top. Most of them have two important motivations: to stay at the SAI centre and to get a job through their sport. Once they have reached that, they get into a comfort zone and lose their focus.
Also, coaches and officials should have an athlete centred approach. They are there to nurture and serve the athlete, not the other way around.
Our athletes lacked quality food and accommodation. No air-conditioning meant they lacked sleep during the hot summer months, which made it harder to recover. The argument can't be that it's still better than at their homes. The basics (food and sleep) need to be of high quality. While British athletes can run a race every week, often led by pacemakers to make sure they get a fast time, Indian athletes tend to have four races per year, all of them championships. How are they supposed to learn to run as fast as they possibly can, when the few races they do are about winning medals? Also, most races are held in hot weather and athletes are exhausted from a 20 to 60-hour journeys, plus a day of registration.
*****
I believe many kids/youth can have that fire that characterizes someone like Sifan. But it has to be lit and nurtured. The way to nurture it is to offer children (age six to 15) a diverse training programme. Physically, the focus should be on building a good base, rather than training for a specific event. Psychologically, the focus is on fun. Children need to learn to enjoy sports. From the age of 15, they can gradually start to train harder and we can nurture competitiveness. The way to do that is to teach athletes a mastery mindset, which means that their focus is on becoming the best version of themselves.
True champions don't focus on winning medals, beating others or any other form of reward (such as getting a job). Sports for them is first of all a quest to better themselves. The way to create winners is to not focus on winning, but rather on the process of getting better day by day.
(Hugo van den Broek is a Dutch distance running coach and former elite runner, who lives in Kenya with his wife and three daughters. Hugo was the head coach of the Elite Distance Running Program in SAI Bhopal from December 2014 until July 2020. He has coached several Olympians.)
Enjoy unlimited digital access with HT Premium
Subscribe Now to continue reading
Topics
Close Story