World Team TT: Sreeja shines as India keep winning run going
Oct 03, 2022 07:51 PM IST
The women's team scored a solid win over Egypt while the men beat Kazakhstan.
In one of Sreeja Akula's daily phone calls from Chengdu to her coach Somnath Ghosh in India, a particular statement from her reflected her current state of mind as well as her growing stature in the Indian team. "She told me, 'I am playing the tough matches'," Ghosh said.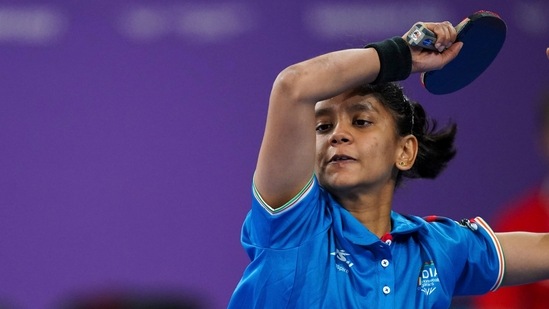 And delivering stronger performances. Turning up for India's opening match in their group game against Egypt—Manika Batra took the first shot in the previous two group ties—in the World Team Table Tennis Championships on Monday, Sreeja swept past teen sensation and 42nd-ranked Hana Goda 3-0 (11-6, 11-4, 11-1). A more experienced Egyptian awaited her with India up 2-1, but the 24-year-old Indian stood equally tall against world No 29 Dina Meshref in a 3-1 (11-8, 11-8, 9-11, 11-6) victory.
With Manika too edging past Dina 3-2 (8-11, 11-6, 11-7, 2-11, 11-8) in the second rubber, the women's team sealed a spot in the Round of 16 as the second-best team in Group 5 behind Germany, the only team that India went down to.
The 77th-ranked Sreeja has won four of her five matches across the three group ties. Three of those four wins have come against top-50 players - German No 14 Nina Mittelham, Hana and Dina - and the sole defeat against 8th-ranked Ying Han of Germany. This, in the Hyderabad woman's first appearance at the prestigious world team event.
"I've been playing well and feeling really confident about my game," the soft-spoken Sreeja said in an on-court interview after her win over Dina.
That confidence has been Sreeja's companion of late. The senior national singles title this year and the Birmingham Commonwealth Games (CWG) - where she won the mixed doubles gold with Sharath Kamal and lost two tight matches on the cusp of a singles medal - have been the major contributing factors.
"She has the belief right now. And that is the biggest reason for her performing the way she is at the moment," Ghosh, her coach for more than a decade, said. "Even I am a little surprised, honestly. But when you suddenly start playing well at the international level, you feel like you can do something with it. Her CWG show gave her that big confidence boost."
The world event has presented different kinds of challenges for Sreeja: from the menacing forehand of Nina to the defensive brilliance of Ying against Germany, from the in-form youngest African continental title winner in Hana to the left-handed examination of Dina against Egypt. Sreeja has aced most of them with aplomb so far. Ghosh believes her sharper, more effective forehand play has stood out in that. Her long pimpled backhand rubber, much like Manika's, already has the touch of uniqueness.
"Earlier, she would miss even some easy forehands. Now, that is her strongest facet which is troubling her opponents," Ghosh said. "She has also adapted and executed strategies well. She is not too comfortable against lefties, but still played a good match against Dina. Against Nina, I asked her to keep her more on the backhand side and attack with her forehand.'
Men remain unbeaten
The Indian men's team, meanwhile, was stretched by Kazakhstan in its third group game but managed to eke out a 3-2 victory to remain unbeaten and top Group 2.
Kazakhstan had world No 28 Kirill Gerassimenko, who won both his matches against Harmeet Desai and G Sathiyan in the second and fourth rubbers respectively. But with Sathiyan taking down Denis Zholudev 3-0 (11-1, 11-9, 11-5) in the opener and Manav Thakkar also defeating Alan Kurmangaliyev 3-0 (12-10, 11-1, 11-8), the pressure was on Desai to deliver in the deciding fifth rubber.
He did, saving game points in the first game against Zholudev before winning 12-10, 11-9, 11-6. India have accumulated six points from their three wins, but have Germany and France breathing down their neck at five each. India face France in their last group game on Tuesday while Germany play the winless Uzbekistan. The top two teams are assured a direct pre-quarterfinal spot.