Rawat clinches NSCI Snooker Open crown
Jan 16, 2023 11:43 PM IST
Laxman Rawat had finished runner-up of the last edition, losing to Sourav Kothari in the final. Rawat was happy to win his "first major title after 2-3 years".
Laxman Rawat of PSPB overcame fellow PSPB challenger Aditya Mehta 9-6 in a best-of-17-frame final of the 'Baulkline' NSCI All India Snooker Open. Rawat had finished runner-up of the last edition, losing to Sourav Kothari in the final. Rawat was happy to win his "first major title after 2-3 years".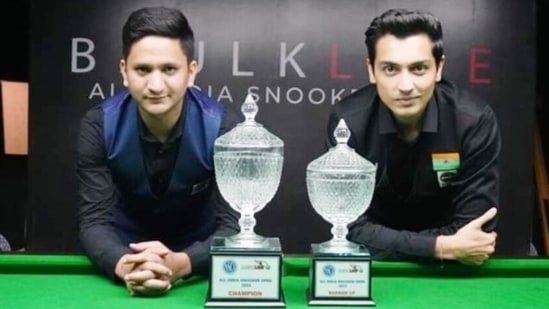 "I'm very glad to be on the winning side this time, because you know if you are capable of winning tournaments like this and if you are not winning anything it's quite frustrating at times. I'm glad that I have finally won," Rawat said.
Results (final): Laxman Rawat (PSPB) beat Aditya Mehta (PSPB) 9-6 (0-110(48,53), 74(69)-42, 83(79)-7, 0-89(89), 104(98)-0, 55(55)-87(50), 87-0, 112(112)-0, 28-89(60), 54-62, 69-1, 83(46)-45, 89(89)-24, 20-65(59), 62-12).
CK Nayudu Trophy: Saxena double ton powers Mumbai
Divyaansh Saxena completed a double century as Mumbai dominated Saurashtra on the second day of their Group D Under-25 Col CK Nayudu Trophy match at DY Patil Sports Academy, Navi Mumbai.
Resuming on 141 with Mumbai 342 for five, opener Saxena scored 250 (381b, 29x4, 2x6) to help Mumbai pile on 543. Wicketkeeper Vaibhav Kalamkar also chipped in with 74. At stumps, Saurashtra were tottering at 89 for five. Khizar Dafedar picked up two wickets including of captain Vishvarajsinh Jadeja on 31.
Brief scores: Mumbai 543 in 141.2 overs (Divyaansh Saxena 250, Vaibhav Kalamkar 74; Ankur Panwar 6/97) vs Saurashtra 89/5 in 35.4 overs (Vishvarajsinh Jadeja 31; Khizar Dafedar 2/13)
Times Shield: Mahindra Logistics enter final
Abhishek Pandey (5/8) and Parth Rai (4/23) helped Mahindra Logistics Ltd. beat IPCA Sports Club by nine wickets in the semi-final of the Times Shield D Division. They will take on Jain Irrigation Systems Ltd. B in the final.
Brief scores: IPCA Sports Club 52 in 21.5 overs (Parth Rai 4/23, Abhishek Pandey 5/8) lost to Mahindra Logistics Ltd. 53/1 (Sarvesh Shiralkar 23) by 9 wkts, Chowgule SC 79 in 23.5 overs (Kuldeep Yadav 25*, Samad Fallah 4/24) lost to Jain Irrigation Systems Ltd. B 84/1 wkts in 13.5 overs (Soham Panvalkar 42*, Aditya Rajhans 35) by 9 wkts.
MFA League: Patil nets four goals
Himanshu Patil struck four goals as Atlanta FC defeated DK Pharma 4-2 in a Elite Division match of the Mumbai Football Association League at the Neville D'Souza ground.
Results: (Elite Div) Sellebrity FC 5 (Kartik Bele 2, Suyash Ghadi, Ricky Bagade, Harshit Kapoor) beat India Rush SC 3 (Saurabh Ramteke, Shahbaz Khan, Sujal Ghanekar), Atlanta FC 4 (Himanshu Patil 4) beat D.K. Pharma 2 (Fuzail Pasha, Harshal Karle); (Second Div) Future Stars FC 'B' 2 (Richard Abraham, Adarsh Arvind) beat Navanagar SC 0, Waves FC 3 (Maunish Koli, Sunny Koli, Manish Koli) beat United Villagers WA 0.
CCI snooker: Gaglani beats Shah in qualifying
Kushal Gaglani beat Vivek Shah 3-2 in a first round qualifying match of the CCI Snooker Classic, organised by the Cricket Club of India, on Monday.
Results: Alex Rego bt Amanullah Shaikh (AP) 3-1 (65-55, 67-30, 57-68, 61-54); Kushal Gaglani bt Vivek Shah 3-2 (49-58, 51-27, 40-82, 57-18, 48-42); Simranjeet Singh bt Alam Shaikh 3-1 (62-33, 63-20, 33-42, 57-37)
Willingdon JSW squash: Rutva given top billing
Maharashtra's Rutva Samant has been given top billing in the boys' Under-19 category in the 4 Star Willingdon JSW Junior Open squash tournament, which will be played at the Willingdon Sports Club from January 19 to 22.
The other players from the state who have been seeded and are fancied to go the distance are Akanksha Gupta, top seed in the girls' U-15, Aaashi Shah, girls' U-11 top seed and Vivaan Bhatia, seeded second among the boys' U-17.