Boy done good: Making of the world's youngest Grandmaster
The Indian-American boy from New Jersey achieved the feat at the age of 12 years, four months and 25 days breaking Sergey Karjakin's record which stood for 19 years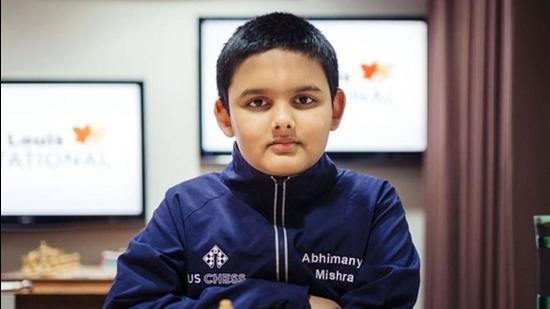 Updated on Jul 01, 2021 11:23 PM IST
You can't really expect a 12-year-old to spend months away from home in a different continent, stay calm in the middle of a pandemic and chase an elusive record. But then Abhimanyu Mishra (who looks even younger) is no ordinary boy. In Budapest on Wednesday, he became the world's youngest chess grandmaster.
The Indian-American boy from New Jersey achieved the feat at the age of 12 years, four months and 25 days breaking Sergey Karjakin's 19-year record. When Russia's Karjakin set the previous mark on August 12, 2002, he was 12 years and seven months. World champions Boris Spassky (1955, 18 years) and Bobby Fischer (1958, 15 years, 6 months, 1 day) have been the world's youngest GM as was Ruslan Ponomariov (1997, 14 years, 17 days).
"Finally checkmated the biggest opponent (ongoing pandemic) which stopped me for 14 months. Thanks everybody for all your love and support. Looking forward for World Cup," Mishra tweeted after getting the third and final GM norm.
GM norms can be got in-person competitions only. But with the pandemic in early 2021 and Mishra yet to get his first norm, the family decided to go all out. Mishra's mother Swati had started a crowd-funding campaign in 2019 --- so far $16,500 has been raised --- to find the dream of becoming the world's youngest GM and in March, Mishra and dad Hemant, who introduced him to the sport before he turned three, decided to leave for Europe where more tournaments were happening.
Also read | World of online cheating exposed in chess saga
That also meant Hemant, a data management professional, had to work remotely through different time zones.
After getting the first and second norms in April (Vezerkepzo tournament) and May (First Saturday tournament), Mishra failed to nail the third in the next three events in Budapest. On June 11, Mishra, who has been mentored by Gary Kasparov, achieved the required 2500 Elo rating points to be a GM. All he needed was the final norm. With a number of players staying in Budapest for an extended period, the local organisers conducted a final tournament - Vezerkepzo GM Mix - to help Mishra. This time he grabbed the opportunity.
Mishra won five of the first six games. In the seventh round, he lost to Slovak GM Milan Pacher. However, he recovered with a win against the Hungarian FM Bence Leszko. In the final round, Mishra defeated Indian GM Leon Luke Mendonca --- who is 15 --- with the black pieces and became GM.
"Somehow I am quite philosophic about this because I felt like it has been almost 20 years and it is really too much!... I was completely sure that one of the Indian guys would do it much earlier. Somehow I was very lucky that it didn't happen," Karjakin told Chess.com.
Also read | Narinder Singh elected as president of Punjab State Chess Association
"Yes, I am a little sad that I lost the record but at the same time I can only congratulate him and it's no problem. I hope that he will go on to become one of the top chess players and it will be just a nice start to his big career. I wish him all the best."
According to uschess.org, Mishra is also the world's youngest International Master getting that title in November 2019 when he was 10 years, nine months, and three days old. He broke the record previously held by GM Rameshbabu Praggnanandhaa by 17 days. Tamil Nadu's Praggnanandhaa had achieved the feat on June 23, 2018.
This brings opportunity as well as pressure, said Vishnu Prasanna, coach of D Gukesh, India's youngest GM (12 years, 7 months, and 17 days), and Mendonca.
"The advantage of becoming GM at such a young age is that he will be invited to top-level tournaments, he will have the best possible conditions to improve and excel. But with greater exposure will come great pressure. Becoming GM at a young age alone does not guarantee that one will do well professionally. One needs to be consistently in the top-50. So, the people surrounding him should really support him. I am sure he has a good support system, which has helped him so far," said Prasanna over the phone on Thursday.
Enjoy unlimited digital access with HT Premium
Get flat 50% off on annual subscriptions
Topics
Close Story