10-year-itch: With vintage show, Azarenka into first Oz Open semi since 2013
Jan 24, 2023 07:27 PM IST
The 33-year-old Belarussian, who won both her Grand Slam titles at Melbourne Park, eased past US world No 3 Jessica Pegula in the quarterfinals
Victoria Azarenka ended 2022 ranked 27th in the world – which is exactly how she had started the year. She showed glimpses of her best form, played a few good matches, reached the fourth round at two Grand Slams but her 24-13 record during the year showed there was something that was holding her back at crucial moments.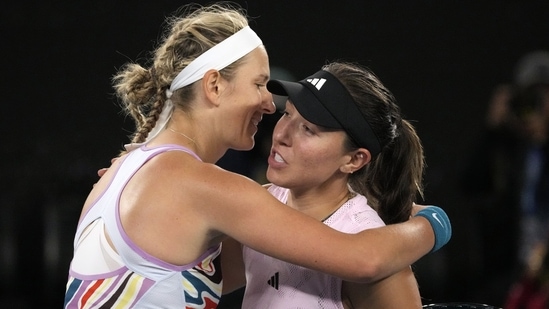 In essence, she was moving well, her strokes had good form but she wasn't brave enough; not brave enough to jump into the deep end and take risks. Being timid doesn't win you matches against the best and she knew that. So, she spent her off-season doing things that challenged her and made her uncomfortable.
Against the third seed Jessica Pegula on Tuesday, it all seemed to come together perfectly. The two-time Australian Open champion rolled back the years as she cruised to a 6-4, 6-1 win in 1 hour and 37 minutes.
"My tennis wasn't bad, but I wasn't really mentally there," Azarenka said in her on-court interview while talking about what has changed since the 2022 season ended. "I played with a lot of fear, a lot of anxiety. It really was difficult to be brave and to make the right choices on court in important moments when you feel anxious and hesitant."
MENTAL RE-SET
So, she decided to change things up.
"I worked a lot on my mindset, challenging myself on things I wouldn't do before," said Azarenka. "When you achieve great success, sometimes you become conservative and hesitant to try new things. I was like, you know what, I'll be open-minded, try new things, keep my head down and work."
All that work helped against Pegula, a player who usually has a rather uncomplicated approach to the game, and propelled Azarenka to her first Australian Open semi-final since 2013. It was also her first win over a Top-5 player at a Major since the 2012 US Open semi-finals where she beat Maria Sharapova.
The new mindset helped as did Azarenka's execution of an aggressive game plan. Pegula was the highest-ranked player left in the women's draw but right from the start, it was the Belarusian who controlled the tempo. And she did that by moving the American from side to side and not letting her find any rhythm on the groundstrokes.
Not letting the opponent play the game they want to is usually half the battle won. And Azarenka followed that up with some smart plays of her own – she had fewer clean winners than Pegula (17 to 19) but she also had way fewer unforced errors (20 to 31).
Pegula clearly felt she was being forced into a corner too: "Hitting the ball deep, taking it early, changing the direction on the ball, doing things that I usually like to do to people. She was doing it well.
"Made it tough for me to feel I could really pressure her. Felt like she was pressuring me constantly the whole time."
It wasn't all one-way traffic despite what the scoreline suggests. Azarenka jumped to a 3-0 lead after just 12 minutes but Pegula hung in there. In the past, we have seen the world no 24 slip-up when she has seemingly been in control but on Tuesday, she held off the American.
"I knew I have to play fast," said Azarenka in the press conference after the game. "I did not want to give her the opportunity to step in, to mix it up because at hip level, there's nobody better than Jess, she just doesn't miss.
"I did some interesting slices. I was like you're doing the right thing. Even if it looks like crap, it's fine."
Azarenka, 33, will face the only other Grand Slam champion left in the draw, the 23-year-old Russian-born Kazakh Elena Rybakina, who beat Latvia's Jelena Ostapenko in straight sets earlier in the day.
It won't be easy but neither have the last ten years. It is a story of perseverance but at the heart of it all, it is Azarenka's will that stands out. She didn't just survive, rather she found a way to excel again. And few things bring greater joy than a redemption arc done right.