'Why are we still relying on Sumit, Ramkumar, Prajnesh? I really hope Manas Dhamne grows up quickly': Somdev Devvarman
Jan 12, 2023 12:03 PM IST
Speaking to Hindustan Times Digital in an exclusive interview, Somdev talked about the present sombre condition of Indian tennis in singles and the need for a fresh wave of young talents like Manas Dhamne to wash it away.
On the final day of the 5th Tata Open at Pune's Balewadi Stadium, when Somdev Devvarman was getting his mic and earpiece on, an elderly gentleman walked up to him, did his greetings, then put his arms around him and introduced him to his friends as, "He is the finest singles player India has ever produced". The 37-year-old courteously smiled, expressed his gratitude and walked towards the Centre Court to begin with the final day's proceedings.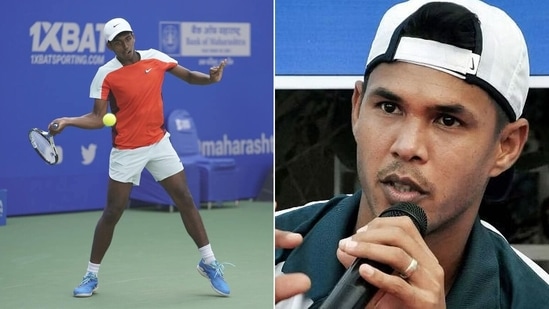 Somdev, India's former No.1, has long been associated with the event, dating back to almost two decades, before he even turned pro, and remains the only ever player from the country to have reached the singles final. It was a run that had put the then 24-year-old into the limelight, eventually culminating in a career to remember for ardent Indian tennis fans. Six years after his retirement, Somdev remains associated with the sport, only now swapping his tennis racquet for a mic, working as a commentator.
Speaking to Hindustan Times Digital in an exclusive interview, Somdev talked about the present sombre condition of Indian tennis in singles competition and the need for a fresh wave of young talents like Manas Dhamne to wash it away. He also spoke at length about Sumit Nagal's return from a tough 2022 and concluded with a few words on the 'inspiring' Sania Mirza.
Excerpts from the interview:
You were part of the Tata Open event, back when it was held in Chennai, as a player many many times and now you were here as a commentator. How did it feel and how have things changed at this ATP 250 event over the years?
I guess the relationship between me and Tata Open goes way before my playing days as well. I grew up in Chennai. And the tournament was moved to Chennai in about 1997. So pretty much every year after it began to till the time I left for college in 2003, I watched it every single day. I would go to the court, sit down and watch matches with my friends. That is where it all began. Later in 2003 or 2004, I played there, in the qualifying rounds, then in 2006 again and when I came back in 2009 I probably played 7-8 times.
It honestly feels nice to be connected with the tournament so closely. When you are a commentator you obviously, it's a privilege because, for anybody who is watching, you can hope that you can give them good insights and keep them interested in the sport. It's just nice and humbling to be associated with the sport in the way that I am.
All the wildcards were handed to the Indian players this time. They all came pretty close but couldn't quite cross the line. Thoughts on that given how big the opportunity was
The opportunities are going to come and go. The truth of the matter is that we don't have a single player ranked inside the top 300, which is a shame because we certainly have the quality.
Manas Dhamne lost his first round match to Michael Mmoh sure, but he is just 15 years old and for that age, he is playing some very mature tennis. Certainly a lot better than I was. If he can continue playing at this trajectory, that is a really good sign.
Sumit Nagal played a very good match against Filip Krajinovic. Again we were a little concerned about his level and fitness and I feel he answered all of those. So more positives than negatives for him. It definitely shows that he is well on his way back in tennis.
What advice would you have for young Manas, who made his ATP debut in the event?
Advise... aah, nothing (laughs). He seems to be in a good program at the Piatti Tennis Centre and it seems to be working well for him. It was good to see that even after he lost his match in the opening round he would come to the court and pay close attention to the matches. To have that level of curiosity is really important.
And if he does need advice and he asks me for one (laughs, again), sure I am willing to help, but right now he is on a great path.
You spoke about the positives from Nagal's performance. It was indeed a very tough 2022 for Nagal. With that in perspective along with the performance, how do you see the remainder of the year for him?
The important thing for Sumit is to finish the year injury free. If he manages that and practices the way he does, at the end of this year, he will be ranked in a very very different place than 500 (presently, 504). But yeah, one step at a time. It would have been great if he could have won a couple of matches, but it's a long road ahead.
Nagal has spoken about the immense support you provided during his tough times last year. If you could speak about that…
It actually started somewhere around October-November of 2021. He had surgery in December in 2021. And we were chatting because we were friends. To be precise, I'm his senior in terms of age (smiles) and experience. But he asked me for advice because I also had shoulder surgery and came back from that and played. So the kind of rehab you want to go through and the mentality you have to have because there are certain days when you are going to be really down, there will be plenty of doubts and the pain is going to be too much. The journey back is hard and a long one. So he just took some advice from my experience. Honestly, I am just happy to be part of that journey for him and I want him to do well and break my career-high ranking.
You mentioned the mental aspect of a comeback journey. We often only get to hear about the physical training of a player who has returned from an injury, mostly through the videos or images they post on social media. But how does one mentally train for a comeback and deal with the early setbacks and doubts? We saw Nagal. Same for Dominic Thiem as well, a Grand Slam winner, who only started winning matches late into 2022…
When you have been operated on, you cannot move that part of the muscles around that part. In my case, it was the shoulder and there was a lot of doubt because I couldn't get my racquet to accelerate. I didn't have a range of motion when I served. Everything hurts.
For Sumit, it was different. He had to re-learn his footwork and trust himself with the slide. That took him nine months at the minimum to feel normal, to feel 'I can again'. In the first couple of months, I was left thinking, 'Are we ever going to get back to normal?' Most of it involves dealing with expectations and knowing what the process is actually going to be an understanding that. Also having a good team that sets you realistic benchmarks works a lot because when you hit them you feel positive even with the small goals.
You spoke about Manas and Nagal. There is also Sasikumar Mukund and Ramkumar Ramanathan. Which of these do you see breaking into the top 100?
Not being pessimistic here, but Mukund hasn't even broken into the top 200. He certainly has the game, but he needs to take it to step by step, be consistent in playing the Slam and ATP event qualifiers and see how things turn out from there.
For Ram, it's a different story. He had a career-high of 111. He didn't start last year very well so needs to find that groove. His game revolves around the serve. He is definitely a top-200 player and he can get back there with a string of good performances.
Talking about the Slam qualifiers, no India has made it to the qualifiers at the impending Australian Open for the first time since 2017. How do you read it?
Exactly how it is. Not good enough. And you look at it how you want to, whether we have been unlucky with Ram's form or Sumit's injury. But why are we still relying on Sumit, Ram and Prajnesh? Where are the rest of the players? I really hope Manas Dhamne grows up quickly and I'm sure there will be other players like him. The next wave of players needs to come in quickly. We can't be relying on Sumit, Ram and Prajnesh. Don't get me wrong, I do hope they do well but Yuki and Saketh are down with singles.
In doubles, however, India has excelled in the last one or two years with so many in the top 150. This time another Indian pair made the final at the Tata Open…
You have to give credit to Jeevan (Nedunchezhiyan) and Bala (N Sriram Balaji) for how hard they worked in the pre-season. They reached so many semis in Challengers in 2022. For others, we have like around 10 players in the top 200 now. No surprise. We have always been good in doubles led by Rohan Bopanna, who is still unbelievable at 42. He has also been instrumental in spearheading the training challenge in doubles and putting together things for players. He is doing a lot.
Yuki has ended his singles career to focus on doubles. Ramkumar is much on those lines. Are you in support of this trend?
To each, their own. For Yuki, it makes sense because I didn't realise how injured he was until I spent time with him last year. He was playing with a lot of pain. It's such a shame because his level is there but his body isn't. But stopping singles to focus on doubles works for some players and Yuki is one of them. I would much rather see him on the singles court. But I would also much rather see him on the court because I know the pain he has been through.
For Ram, I would be shocked if he made this move. He has a lot of singles left in him. I had even spoken to him and I think he is very motivated to continue playing singles. He played in the qualifiers at Tata Open. He had a very good tournament. He is better today than he was last year, although his ranking may not reflect it.
Sania Mirza has made it official that next month she will be retiring from tennis. So if you speak a few words about her influence on Indian tennis and the void she leaves behind…
She is a legend of the sport in India. She did announce it last year, but it was nice to see her play a couple more times on the court. We have to celebrate her career. I remember her from her junior days and then going and playing the junior Slams together and how she rocked the world by winning the junior Wimbledon doubles in 2003. We all knew then that she was something special. She continued doing great things and by 2006/7 she won her first WTA event and broke into the top 100, showing that she could play against top players worldwide. Her career has been inspiring. And if I know Sania, she will remain connected to the game. I wish her well for the next bit.