WhatsApp's 'Accidental Delete' feature will save you from awful situations
Dec 20, 2022 12:48 PM IST
If you accidentally selected 'Delete for Me' option instead of 'Delete for Everyone' to remove a text, WhatsApp is bringing out a feature to end your woes.
Sent a WhatsApp message to a wrong person by mistake, only to erroneously select 'Delete for Me' instead of everyone? It cannot be more embarrassing moment than this. But wait, the social media platform has a solution to your woes.

The Meta-owned app has now introduced an 'Accidental Delete' option for the users to protect them from such tricky situations. The users will have a five-second window to reverse the Accidental Delete and click on 'Delete for Everyone'.

This feature will give the user enough time to undo a deleted message if they selected "Delete for me" but meant to "Delete for everyone". This feature is available to all users on Android and iPhone.

Few days ago, WhatsApp had announced that it is working on feature which will allow the messages to view once before disappearing. The website WABetaInfo had revealed that the feature is currently at a development stage.

According to the report, there is a new button next to the chat bar and has a lock symbol denoting that the message will be a 'view once' text. The messages will disappear after the recipient opens.

Recently, WhatsApp announced new features to improve the quality of calls on the app. The features include call links, 32-person calls and more.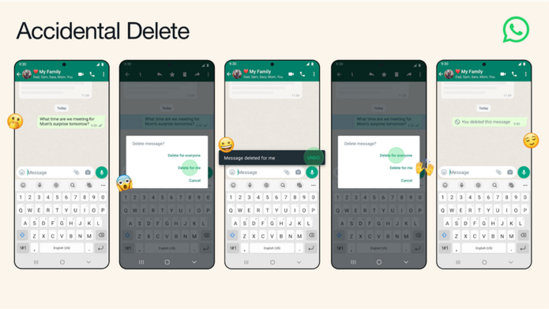 The users can view who is speaking if their camera is off during a group call. There is a in-call banner notification to inform about a new participant entering a group call. The users can easily multitask while on a call thanks to a minimized in-call video screen.