Telangana assembly elections: Voting for 119 seats today, counting on Dec 11
Telangana assembly elections: Polling will be held between 7 am and 5 pm for 106 of the 119 seats, while voting in 13 Maoist-affected seats will start at 7 am and end at 4 pm. The main contest is between the ruling Telangana Rashtra Samithi and the Congress-led four party People's Front.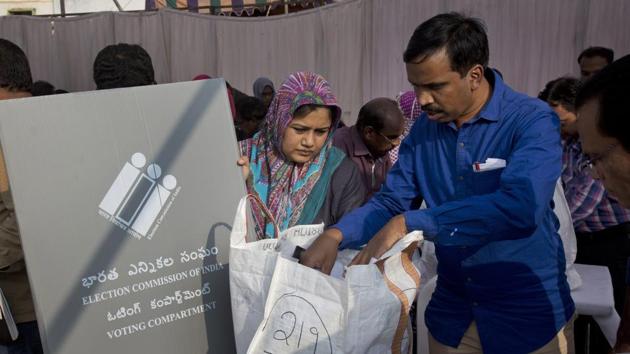 Updated on Dec 07, 2018 01:19 AM IST
Hindustan Times, Hyderabad |
HT Correspondent
Telangana's 2.8 crore electorate will vote on Friday in the advanced assembly elections in the state, where the TRS government is trying to retain power against a Congress-led four party alliance which also includes Andhra Pradesh's ruling TDP.
Voting will start at 7 a.m. for the 119 assembly constituencies and go on till 5 pm in 106 constituencies while it will end at 4 pm in 13 Maoist-affected seats. Electronic voting machines and VVPATs (voter verifiable paper audit trail) will be used in all the constituencies. Voters will also have NOTA (none of the above) option.
The TRS government had dissolved the assembly about eight months ahead of schedule in the hope of taking the opposition parties by surprise but the Congress threw its own surprise by coming up with its alliance, in which it also roped in its one-time foe, the Telugu Desam Party (TDP). The other two parties in the grouping are the Communist Party of India (CPI) and the Telangana Jana Samithi (TJS), floated by M. Kodandaram, who was once chief minister K. Chandrasekhar Rao's friend in the Telangana movement.
A total of 1,821 candidates are in the fray. While the main contest is between the Telangana Rashtra Samithi, the Congress-led 'Prajakutami' (Peoples Front), the Bharatiya Janata Party is also seeking to make its mark, in the first election it is fighting alone in the state. In 2014, it had contested in alliance with the TDP. Asaduddin Owaisi's All India Majlis-e-Ittehadul Muslimeen (AIMIM) is contesting eight assembly constituencies in Hyderabad and supporting the TRS elsewhere.
Telangana has 51,796 polling stations, an increase of 14.25 per cent over the previous election in 2014. As the banned Communist Party of India-Maoist has given a call for boycott of elections, the police have heightened vigil in areas bordering Chhattisgarh and Maharashtra.
Telangana had seen a high-volume, often bitter campaign with personalized attacks by leaders of various parties. Prime Minister Narendra Modi, Congress president Rahul Gandhi, BJP president Amit Shah, Andhra chief minister and TDP chief Chandrababu Naidu and Uttar Pradesh chief minister Yogi Adityanath were among those who had addressed multiple rallies and held across the state. UPA chairperson Sonia Gandhi had also addressed a public meeting in her first visit to the state since it came into being in 2014 and her only political engagement in the current assembly elections
While exits polls results are likely soon after polling ends, results will be declared on December 11 along with those of Chhattisgarh, Madhya Pradesh and Mizoram, where elections were held in November, and Rajasthan which also went to the polls on Friday.
Close Story