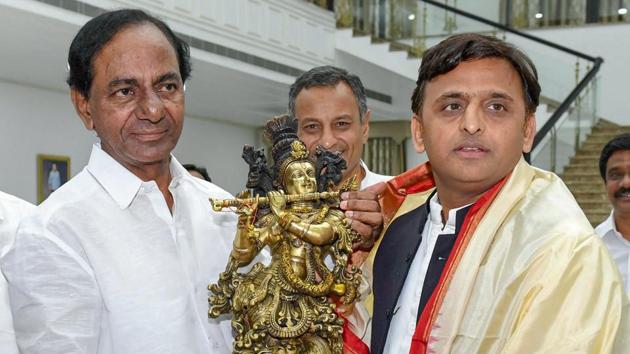 KCR's federal front a conspiracy to help BJP, Cong warns regional parties
Telangana Congress has written to Mamata Banerjee, Akhilesh Yadav and others saying KCR's idea of a federal front is to break anti-BJP unity and finally help the saffron party.
PUBLISHED ON MAY 06, 2018 12:31 PM IST
The Telangana unit of the Congress has warned various regional parties to be wary of what it believes is a conspiracy by Telangana Rashtra Samithi president and chief minister K Chandrasekhar Rao who has proposed the formation of an anti-Congress and anti-BJP federal front.
Telengana Pradesh Congress Committee (TPCC) general secretary Dr Dasorju Sravan believes KCR's proposal is a smokescreen to weaken anti-NDA solidarity and strengthen the BJP.
"KCR may overtly appear to be criticising the BJP and Congress, but covertly he is a strong supporter of Prime Minister Narendra Modi and his rhetoric was under the influence of Amit Shah. After Telugu Desam Party quit the NDA, Modi and Shah found a new friend in KCR and through him, they are polarising anti-BJP and secular political parties so that these political parties do not ally with Congress party eventually," Sravan wrote in his letter to Trinamool Congres president and West Bengal chief minister Mamata Banerjee, Samajwadi Party president and former Uttar Pradesh chief minister Akhilesh Yadav and others on Friday.
He alleged that KCR was trying to disintegrate the solidarity of anti-BJP political parties. "KCR is talking of a federal front only with the UPA allies. So, this is the clear ploy to see NDA's edge and weakening the UPA," he said.
He said KCR was enacting a political drama scripted and directed by Prime Minister Narendra Modi and BJP president Amit Shah. "Very recently, Amit Shah welcomed the formation of a federal front and openly said KCR was his friend," he said.
The Congress leader also pointed out that KCR was the first CM to support demonetisation and GST. The TRS also supported BJP candidates in the President and vice-president's election.
"TRS MPs sabotaged attempts of a no-confidence motion in Parliament against Modi. KCR also proved his loyalty to the PM by not sending anyone to the southern state finance ministers' meet held in Kerala against injustice being done to southern states in allocation of funds," he said.
The first southern finance ministers' meet in Thiruvananthapuram was held last month to deliberate on the 'unjust' terms of reference of the 15th finance commission. They had complained that they are being penalised for successfully implementing the Centre's programmes to control population growth, while the northern states were being 'rewarded' despite their abject failure on this count.
TRS official spokesperson K Prabhakar could not be reached despite repeated calls.
Close