Australian Open: Hyeon Chung finds new tennis audience in Korea
Published on Jan 25, 2018 03:52 PM IST
Sales of tennis gear in South Korea doubled after Hyeon Chung beat Tennys Sandgren in the Australian Open quarter-finals, becoming the first Korean to reach the last four at a Grand Slam.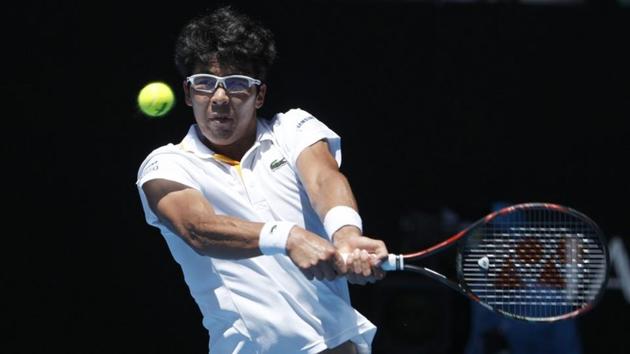 Agence France-Presse, Seoul |
Agence France-Presse
Bespectacled Chung Hyeon's unprecedented Grand Slam run has brought tennis to new fans in South Korea, but he will need to keep on winning if he wants to trigger a real "boom" in the sport in his home country.
Sales of tennis gear doubled after Chung, 21, beat the little-known but aptly named Tennys Sandgren in the Australian Open quarter-finals, becoming the first Korean to reach the last four at a Grand Slam.
(Read | Roger Federer faces Hyeon Chung test for place in Australian Open final)
Tennis ranks far behind the likes of baseball or golf in South Korea, where the high cost of equipment and small number of courts in its densely populated cities have dissuaded many from taking up the game.
But Chung's quarter-final win drew top television ratings, and media hailed him as "rewriting" the history of tennis in a country which boasts Asia's fourth-largest economy.
"Wow, I watched a tennis match for the first time because it was the talk of the town but I didn't know it was such a fun sport," said one online comment.
(Read | Australian Open: Chung Hyeon set to give rivals nightmares, says coach Neville Godwin)
Sales of equipment including rackets, bags and clothes at South Korea's online retailer Gmarket surged 96 percent year-on-year in the 24 hours after Chung's quarter-final win.
"South Koreans take pride from seeing an underdog South Korean defeating top ranking world players and this is just that," said Roger Park, a sports marketing professor at Hanyang University.
South Korea has a precedent for excelling at a sport after a trailblazer led the way. After Pak Se-Ri's LPGA tour victories from 1998 onwards, South Koreans now dominate women's golf, occupying four of the top six slots in the current rankings.
(Read | Australian Open: Simona Halep left 'shaking' after beating Angelique Kerber in semi-final)
And when figure skating sensation Kim Yuna won gold at the 2010 Vancouver Winter Olympics, it led to a flurry of children lacing up their skates and gliding onto the ice.
- 'You have to be number one' -
After beating 12-time Slam-winner Novak Djokovic in straight sets, Chung -- who took up the game in an attempt to improve his eyesight -- said: "I hope my victory will trigger a tennis boom in South Korea."
(Read | Roger Federer to play tennis doubles match with Bill Gates)
But while the flamboyant Chung has impressed in Melbourne, winning over the Australian crowd, he will need to go a step further if tennis is to catch fire in Korea, experts say.
Chung benefited from a "stroke of luck" when Djokovic fell victim to injury, said Lee Seung-Hwan, a sports marketing professor at Kookmin University. His tournament could also be over on Friday, when he faces 19-time Grand Slam winner Roger Federer.
(Read | Australian Open tennis: Elise Mertens learns 'anything is possible')
"Playing in the semi-finals a couple of times won't put you in the ranks of Kim Yuna or Pak Se-Ri," said Lee. "You have to become number one to be remembered by South Koreans."
Djokovic was badly hampered by injury in his match against Chung, who then went on to play America's Sandgren, the world number 97, in the quarter-finals.
However, Chung has undoubted pedigree. Already ranked 58th, he won last year's NextGen tournament for top young players and is rated as a strong prospect for the future.
The last South Korean to reach even the round of 16 at any Grand Slam tournament was Lee Hyung-Taik at the 2007 US Open men's singles -- and he was only the second to do so.
Now, the ultimate goal for Chung will be winning a Grand Slam singles title, and becoming the first male Asian national to do so.
"Even if it is an unpopular sport, when a South Korean stands out at a major tournament, everyone starts paying attention," said Lee.