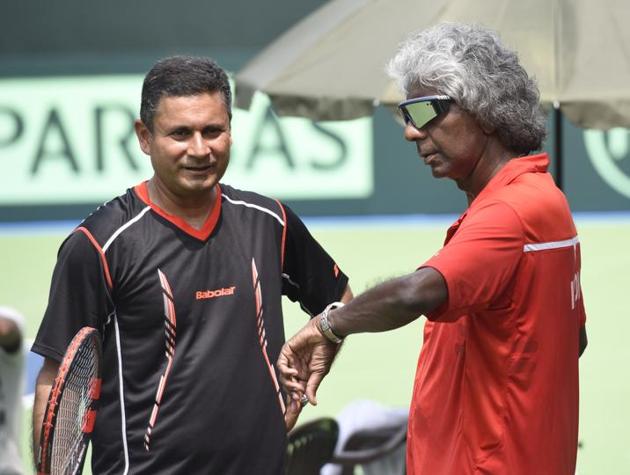 Mahesh Bhupathi may have a tough time: Outgoing Davis Cup captain Anand Amritraj
Anand Amritraj said Mahesh Bhupathi, who will take the captain's position from April, has a task at hand since the players loved the way he handled them.
PUBLISHED ON DEC 22, 2016 06:36 PM IST
India's outgoing Davis Cup captain Anand Amritraj on Thursday termed as bittersweet, the All India Tennis Association's (AITA) decision to hand him a farewell tie in February and predicted some tough time for the next man in charge, Mahesh Bhupathi.
The AITA Executive Committee decided to give Amritraj one last tie as reports emerged recently that he will be asked to go on account of indiscipline in the Indian team.
AITA did not give him the one-year term he had wished but has given Amritraj a chance to make a graceful exit for himself and he would like to go on a high by winning the tie against the Kiwis.
Read: Davis Cup captain Amritraj Anand says 'no breach of discipline under my watch'
"It's an interesting decision by the AITA. I am a little disappointed because I had requested them for one more year, after which I would have stepped down from the captaincy voluntarily if they wanted me to. Now it seems like the NZ tie will be my farewell tie and that's bitter-sweet to me, considering the three good years we've had," Amritraj told PTI in an interaction.
Amritraj had taken over as captain from SP Misra in 2013 after leading players revolted against the way AITA was handling Davis Cup issues.
The US-based Amritraj said Bhupathi, who will take the captain's position from April, has a task at hand since the players loved the way he handled them.
"Till yesterday, I did not even know that Mahesh was interested in the captaincy. He will certainly have challenges like all new captains and he will have to handle them as he thinks best. His style of management will surely be different from mine and without sounding too cocky, he'll have a hard act to follow, considering the rapport I have with the team," Amritraj said even as he did not elaborate.
Asked to pick his best moments in his three-year reign, Amritraj chose away ties against Korea and New Zealand.
"The best moments of my captaincy were our two away wins in Korea in 2014 and New Zealand in 2015. We were all very united as a team, there was great camaraderie among the players, and we had a lot of laughs and fun during two very difficult ties. Somdev was amazing in Korea and Yuki was equally amazing in NZ and with Somdev's help we were able to pull off a win," he recalled.
During Amritraj's tenure, the Indian team managed to reach World Group Play-off stage thrice and lost to only the best teams in the world -- Serbia (in Bangalore, 2014), Czech Republic (New Delhi 2015) and recently Spain (New Delhi, 2016).
What should be the way forward for the team now?
"That's for the next captain to decide," he said curtly.
Asked to say more, he said, "In my opinion, we need two players in the top 100 to be a regular in the World Group. We are a long way from that at the moment. Basically, the top players have to stay healthy, work harder and try to get their rankings up. Only then will we be able to make any kind of impact in the Davis Cup."
Close