'Mixed feelings' as Bopanna flies to USA to return to Tour
Updated on Aug 16, 2020 11:59 PM IST
The doubles world No. 37 is the only Indian who will play the ATP 1000 Cincinnati Open, which marks the return of the men's ATP Tour after a five-month break.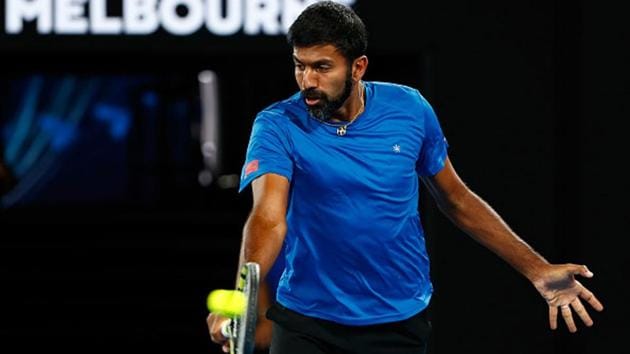 Rohan Bopanna will fly around 8,000 miles from India to the US before covering half of that distance next month to go from the US to Europe, touching down on three countries in a span of a month-and-a-half during a pandemic. All this to play just four tournaments.
It's an unusual itinerary, for professional tennis players normally club together a bunch of tournaments in one continent in a season. But in the current scenario, Bopanna, India's highest-ranked tennis pro, will partner Canadian rising star Denis Shapovalov to play the ATP Cincinnati Open (from August 22) and the US Open (August 31) in New York, the Rome Masters (September 14) and the French Open (September 27) in Paris before returning home.
The doubles world No. 37 is the only Indian who will play the ATP 1000 Cincinnati Open, which marks the return of the men's ATP Tour after a five-month break while also acting as a curtain-raiser to the hard-court Grand Slam at the same venue.
"Mixed feelings about being back (on the Tour)," Bopanna said over phone before taking his flight from Bengaluru to New York early Saturday morning. "I have a daughter who is now going to be 15 months old, so it was special spending time with her and being with her at home.
"I love competing and am really happy to be back. Having said that, the tournaments will feel different with no people watching. There are so many restrictions with the US Open in terms of the (halved) doubles draw and no singles qualifying. So, yes, it's a Grand Slam, but it's kind of a closed Grand Slam. So I'm not really sure what to expect," he added.
For a long time, the 40-year-old also wasn't sure if he would make the journey to New York, with different travel and quarantine restrictions in place. But once India started limited flights to USA and the participating players at the US Open were promised a waiver of the quarantine period, Bopanna decided to give it a shot despite the reservations.
"Initially nobody was sure because we don't have any firsthand information about how things are planned there. We are only reading and receiving information. But once they put in place the protocols and logistics of how everything was going to be carried out, it made it a little easier to make the decision to travel. The main thing was the flights had to open up in India," he said.
Bopanna took a Covid-19 test on Wednesday - which returned negative - before his flight. He will be tested again once he checks into the designated hotel in Queens and enters the bio bubble before a range of regulations and restrictions kick in. "I'm going with an open mind. Once we get there I think we'll have a better idea of how things are. But there will be no access to Manhattan or any restaurants or anything else. It's just tennis courts and back. So I'll kind of be in another lockdown, only this time in New York!" Bopanna said.
The US Open might be on but it will lack in flavor. A number of top-100 players, including the men's and women's singles defending champions, have pulled out while both the tournaments in New York will be played behind closed doors.
"Not at all surprised that some players have decided not to go," the 2017 French Open mixed doubles champion said. "It's a purely personal decision; I don't think anybody can be held for that. Everyone has different thoughts on the situation. But that's the beauty of our sport—you can make your own call."
Bopanna was the first tennis pro to resume training in India, hitting the courts in Bengaluru in June before recurrences of the lockdown in the state disrupted his continuity. He feels his preparation after a long break has been adequate but is going to take it one game at a time.
"Physically I'm feeling great. I've been doing a lot of Iyengar Yoga, which has enhanced my physical strength. I've been practising in my academy for the past three weeks, both on clay and hard courts. So in terms of hitting the ball, I feel fine. Clearly, no one will be match-sharp. We just have to take things, literally and absolutely, one match at a time. There's no point thinking too far ahead," he said.
There sure isn't. Tournaments continue to get cancelled and there is no certainty about how the Tour will shape up after the French Open ends in October. Bopanna thus wants to treat this two-month phase like the start of a fresh season wherein players play a tournament or two before heading straight into the year's first Grand Slam, the Australian Open.
"It's the same scenario here. It's very difficult to say how it's going to be and there's no point pre-guessing it. All I know for a fact now is that once I leave, I won't be coming back immediately. I'll play all the four tournaments, return to India and get quarantined," he said.
Topics
Personalise your news feed. Follow trending topics