The move is seen as a major shift from the existing transaction-based compliance audit to carry out an outcome-based performance/ efficiency audit aimed at enhancing overall efficiency.


Published on Jul 15, 2022 05:17 PM IST
Although the police are still trying to ascertain the official ownership of the building, senior officers said they will send notices to the agencies concerned for original documentation regarding the construction of the complex, which was built under the Rajiv Ratan Awas Yojna.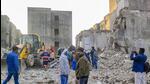 Updated on Feb 13, 2022 04:10 AM IST
In a report, which was tabled in Parliament on Tuesday, the CAG said the percentage of work finished within the original schedule dropped from 47.09 per cent in 2016-2017 to 36.53 per cent in 2018-2019.


Published on Dec 22, 2021 09:48 PM IST
Written by Sharangee Dutta | Edited by Sohini Goswami
, Hindustan Times, New Delhi