Kiren Rijiju in presence of chief justice of the high court of Jammu and Kashmir and Ladakh, Justice N Kotiswar Singh and Justice Tashi Rabstan, executive chairman, JKLSA, inaugurated the office of Legal Aid Defense Counsel at ADR Centre in District Court Complex, Budgam.

Updated on Apr 09, 2023 10:33 PM IST
Gujarat-based accused Kiran Patel, who had been arrested for allegedly posing as a senior official of the Prime Minister's office, was in the custody of Jammu and Kashmir Police up to this point.

Updated on Apr 07, 2023 11:41 AM IST
For his 1,595 followers on Twitter, Kiran Bhai Patel was as an important man; a resident of "34, Meena Baug, New Delhi"; a PhD from a college in Virginia, an MBA from IIM Trichy; "thinker, strategist, analyst, and campaign manager", all rolled into one

Updated on Mar 18, 2023 01:18 PM IST
Mir Ehsan and Maulik Pathak
The attacks came a day after an encounter broke out between terrorists and security forces in Srinagar's Nowhatta in which a police constable, Sarfaraz Ahmad, succumbed to his injuries on Monday

Published on Aug 15, 2022 10:04 PM IST
Central Kashmir's Budgam district has turned into a fresh hotspot of terror activities, posing a tough challenge before the security forces, especially in the backdrop of series of targeted killings.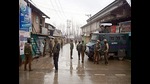 Published on Jun 04, 2022 04:20 AM IST
On Thursday, 26-year-old bank employee from Rajasthan, Vijay Kumar, was shot dead at his office in Jammu and Kashmir's Budgam district. Hours later, two migrant labourers from Bihar and Punjab were shot at in the same region. The labourer from Bihar succumbed to his injuries later.


Updated on Jun 03, 2022 06:52 PM IST
Written by Sharangee Dutta | Edited by Aryan Prakash
, New Delhi
A migrant labourer was killed while another was injured after terrorists opened fire at them in Budgam district of Jammu & Kashmir late on Thursday, police said.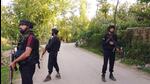 Updated on Jun 03, 2022 05:52 AM IST
According to police, the first encounter began around 9.33pm on Wednesday when a joint cordon and search operation was launched to nab two terrorists hiding in Awantipora's Aghanzipora area.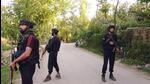 Updated on May 28, 2022 12:31 AM IST
Amreen Bhat was shot dead by unidentified militants in her village of Hushroo, deep in central Kashmir's Budgam district on Wednesday. Her family suspect that she was killed for her videos that many found un-Islamic but cannot make sense of the grisly murder.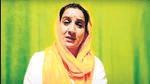 Updated on May 27, 2022 01:26 PM IST
On Saturday, terrorists shot dead 29-year-old SPO Ishfaq Ahmad and wounded his 21-year-old brother Umar Jan at their residence in Kashmir's Budgam district in another targeted attack on security personnel.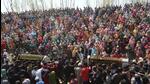 Updated on Mar 28, 2022 12:39 AM IST
Unidentified terrorists on Saturday shot dead a 29-year-old special police officer (SPO) and injured his brother in another targeted attack on security personnel in Kashmir, officials familiar with the matter said.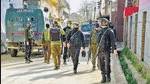 Updated on Mar 27, 2022 06:21 AM IST
"The area has been brought on a tourism map, which shall go a long way in shaping the future of Zoogu-Kharian," the development commissioner said, according to the department of information and public relations, Jammu and Kashmir.


Published on Nov 14, 2021 09:12 AM IST
The Doodhpathri festival, 2021, showcased singing performances, Rouf, a Kashmiri folk dance, martial art and Bhangra, a Punjabi dance to boost tourism activity in the attractive tourist destination of Jammu and Kashmir


Updated on Oct 05, 2021 11:12 AM IST
ANI | | Posted by Zarafshan Shiraz
, Budgam (jammu And Kashmir) [india]