Latest from domestic flights
Earlier, airlines, including MDLR, Vayudoot and Deccan Airways, had launched flights to nearby cities, such as Kolkata and Ranchi from Sonari aerodrome, with small aircraft, but later they stopped services.

Published on Sep 17, 2022 11:19 AM IST
PTI | | Posted by Sharmita Kar
Last week, Canada suspended random Covid-19 testing at all its airports for the rest of June to ease long waiting times that travellers have been facing and will announce on Tuesday, end of coronavirus vaccine mandate for domestic air, rail and outbound international travel

Updated on Jun 14, 2022 09:34 AM IST
Bloomberg | | Posted by Zarafshan Shiraz
The new program is Australian airline's latest effort to balance their frequent flyer sheets as customers have accumulated massive stockpiles of points during the Covid-19 pandemic.


Updated on May 09, 2022 08:02 PM IST
ANI | | Posted by Zarafshan Shiraz
, Sydney [australia]
Here are today's top news, analysis and opinion at 9pm. Know all about the latest news and other news updates from Hindustan Times.

Published on May 07, 2022 09:04 AM IST
With an improvement in the Covid situation, services of all international passenger flights will resume by March 27 at 100% capacity, Scindia added.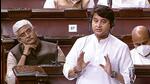 Updated on Mar 15, 2022 06:03 AM IST