[
gurmeet ram rahim singh news
]
Latest from gurmeet ram rahim singh
Ram Rahim was convicted by a special CBI court in 2017 for rape. In 2021, he and his aides were found guilty of murdering former Dera manager Ranjit Singh in 2002.


Published on Oct 27, 2022 07:35 AM IST
Ram Rahim, the main accused in sacrilege cases, has been serving a jail term after being convicted in rape and murder cases and was released from Sunaria jail on 40-day parole on Saturday.


Published on Oct 27, 2022 06:33 AM IST
The description of the video, released on Dera chief's official YouTube channel Saint MSG, credits Gurmeet Ram Rahim with music, lyrics, singing, composition, and direction.


Updated on Oct 26, 2022 08:23 AM IST
According to the report, Singh is likely to go to the Dera Sacha Sauda Ashram in Barnawa in Uttar Pradesh's Baghpat.


Published on Jun 17, 2022 11:23 AM IST
With this, the Dera Sacha Sauda chief has got bail in all three politically sensitive cases connected with the 2015 Bargari sacrilege incidents, which had triggered protests in Punjab, resulting in the killing of two Sikh protesters in police firing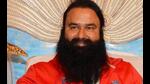 Updated on May 13, 2022 09:15 PM IST
Haryana jail minister Ranjit Singh Chautala said it was the right of every inmate to get furlough as per law and the same was applied to the Dera chief.


Published on Feb 07, 2022 12:24 PM IST
The CBI court convicted Dera Sacha Sauda chief Gurmeet Ram Rahim and four others on October 8 for murdering a former manager in 2002.


Published on Oct 18, 2021 04:47 PM IST
The CBI court had convicted Gurmeet Ram Rahim and four others in a murder case on October 8.


Published on Oct 12, 2021 05:03 PM IST
Dera Sacha Sauda chief Gurmeet Ram Rahim Singh is undergoing a 20-year jail sentence for raping two of his followers.


Updated on May 21, 2021 02:10 PM IST
The 53-year-old Dera Sacha Sauda chief would be kept under the observation of a team of doctors in the government hospital, the officials in the prisons department said.


Published on May 13, 2021 08:48 AM IST