ICMR-National Centre for Disease Informatics and Research, Bengaluru has invited application for 15 vacancies of Project Scientists and other posts

The findings, comprising a vast sample size of 113,043 people, illustrates the scale of what are considered as non-communicable disease, which now have a growing disease burden and have been linked to unhealthy lifestyles among other factors.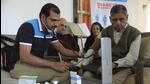 MoS Health and Welfare minister Dr Bharati Pawar in Lok Sabha discussed the ICMR research on Friday.

Omicron was detected in samples from South Africa in November last year. The World Health Organization declared it has 'variant of concern' and called for investing more resources in studying Omicron and finding vaccines for it.

The government-recommended treatments do not include medicines like ivermectin, favipiravir and Doxycycline.