Till March 31, 2017, the arrears amounted to ₹2,113 crore, according to Manohar Lal Khattar.

Published on Aug 25, 2022 09:58 PM IST
The chief minister also announced compensation of ₹1 crore for the deceased's family, along with jobs in the state government.

Published on Jul 19, 2022 04:12 PM IST
Haryana is contemplating a model where the government will not be paying money for getting the land allotted to set up additional assembly building in Chandigarh, says chief minister ML Khattar.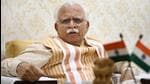 Updated on Jul 18, 2022 11:20 AM IST
By
Ramesh Vinayak and Hitender Rao
, Chandigarh
A high-powered purchase committee of the state government, after holding negotiations with Airbus Helicopters, Germany, have finalised the purchase of Airbus H145-D3.

Updated on Jun 29, 2022 08:37 PM IST
Vijay Singla news: Former Punjab health minister, was first sacked by chief minister Bhagwant Mann and then, hours later, arrested by the state's anti-corruption officials.

Updated on May 25, 2022 11:55 AM IST