The fate of Vaibhavi Tripathi, her husband Ashok Kumar Tripathi and their children children - Dhanush and Ritika - residents of Thane city adjoining Mumbai, and 18 others travelling with them in the Tara Air plane, is yet to be known.

Published on May 30, 2022 05:06 AM IST
The plane, a De Havilland Canada DHC-6-300 Twin Otter, took off from Pokhara at 10.14 am but lost contact with the control tower five minutes before it was due to land in Jomsom, a popular tourist town in central Nepal.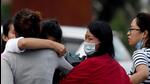 Updated on May 30, 2022 03:29 AM IST
The Tara Air plane, carrying 22 people including four Indian nationals, two Germans, 13 Nepali passengers and a three-member Nepali crew, was on a 15-minute scheduled flight to the mountain town of Jomsom.


Updated on May 29, 2022 06:49 PM IST
The Nepal plane Twin Otter 9N-AET took off at 10:15 am from Pokhara, and lost contact with the control tower 15 minutes later, according to an airline spokesperson.


Updated on May 29, 2022 04:29 PM IST
"Can't keep calm! Say hi to our QP-pie!" Akasa Air tweeted sharing the picture of the aircraft.

Updated on May 23, 2022 01:00 PM IST