Abe, 67, was shot from behind in Nara in western Japan while giving a campaign speech. He was airlifted to a hospital and later pronounced dead.
Published on Jul 09, 2022 06:26 AM IST
All four nations find a common ground of being democratic nations and common interests of unhindered maritime trade and security.

Updated on Jun 15, 2022 08:31 AM IST
The multilateral exercise comes at a time when China is expected to launch its third aircraft carrier (Type 003) this month as the Ukraine war has cast a long war shadow over Beijing's objective of incorporating Taiwan using force.

Published on Jun 06, 2022 10:46 AM IST
The deal signed between visiting Chinese foreign minister Wang Yi and Samoan Prime Minister Fiame Naomi Mataafa promised "greater collaboration" between the two countries.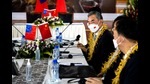 Updated on May 29, 2022 04:36 AM IST
The Indo-Pacific Economic Framework is another name for free trade agreement and QUAD's maritime domain awareness initiative is to ensure that Chinese trawlers are monitored and prevented from illegal and unregulated fishing.

Updated on May 25, 2022 10:24 AM IST